In Engineering Science you will use mathematical models and advanced computing to simulate real-world processes, systems, and solutions to solve the complex problems posed by industry and society.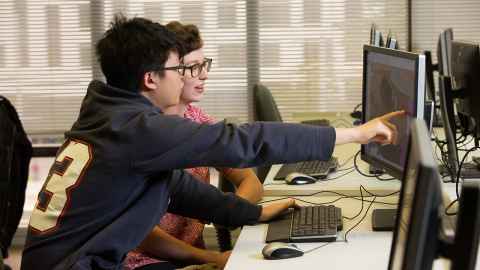 Subject overview
Engineering Science underpins all modern engineering practice, focusing on the development and use of computer models to understand, plan and control our world. This specialisation prompts students to answer complex questions using the power of computers, mathematics, and technology. This creates versatile thinkers who are in high demand in many industries today.
With an emphasis on project work, Engineering Science prompts questions relevant to the real world, such as:
How can you emphasise environmental sustainability while ensuring profit?
How can a sail be designed to work in low-wind conditions?
How much should airline tickets be worth to maximise revenue per flight?
How much damage is inflicted on a car in the event of a crash?
How can metals be cut in an efficient way?
What's the optimal delivery route for a local supermarket?
What happens to an athlete's muscles when they are injured?
Beyond an engaged roster of academic staff and a tight-knit student cohort, the Department of Engineering Science and Biomedical Engineering also boasts collaborations with many of the University's world-renowned experts within the Geothermal Institute, Auckland Bioengineering Institute, the Operations Research and Computational Analytics group, and more. The University of Auckland is additionally the only tertiary institute in New Zealand to offer Engineering Science as an undergraduate specialisation, making our graduates uniquely qualified to take on the challenges in our local industry.
Where can Engineering Science take you?
Our graduates are found in many of New Zealand's leading companies, including Air New Zealand, Navman and Meridian Energy, as well as government organisations such as NIWA and Transpower, and consultancy firms like Beca and Maunsell. Many graduates also find fulfilling careers overseas. Engineering Science opens up opportunities within fields that require the modelling of optimal production processes, advanced programming skills, and logical thinking. So you may potentially see yourself in management or software design roles in the engineering, industrial, medical, service or business sector.
Explore your study options in Engineering science