Postgraduate study in Medicinal Chemistry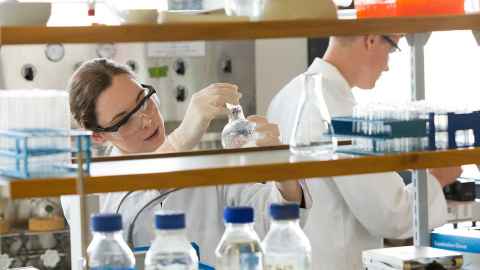 What can you study in Medicinal Chemistry?
Postgraduate study in Medicinal Chemistry combines advanced courses in Chemistry, Biology and Medicinal Science with laboratory work and a year-long research project supervised by an academic staff member in the School of Chemical Sciences.
You will explore various aspects of Medicinal Chemistry, including synthesis, reactivity and analysis of medicinal compounds. You will also develop the ability to provide valuable insight into the pharmacological, regulatory and ethical aspects of these bioactive molecules.

Research interests open to exploration include:
Analytical chemistry
Biomolecular chemistry
Structural and computational chemistry
Bioactive molecules
Structural biology
Molecular cell biology
Toxicology
Clinical pharmacology
Structuring your postgraduate programme in Medicinal Chemistry
Bachelor of Science (Honours) (BSc(Hons)) in Medicinal Chemistry
Requirement:
15 points:
45 points from:
60 points:

Courses
Explore the postgraduate courses you can take that cover a Medicinal Chemistry specialisation:
Where can postgraduate study in Medicinal Chemistry take you?
Jobs related to Medicinal Chemistry include:
Academic
Chemist
Investigator
Lab chemist
Medicinal chemist
Research scientist
Researcher
Scientist
Synthetic chemist
Teacher
Technician
Patent attorney

Scholarships and awards
Each year we award scholarships and prizes to thousands of students.
Find out about the scholarships you may be eligible for, search available scholarships or begin an application by visiting Scholarships and awards.
Help and advice
Student Hubs 
Visit your hubs for help and advice on any aspect of your studies and life at University.
The Student Hubs are your physical gateway to Waipapa Taumata Rau | the University of Auckland. 
The Student Hubs services are available seven days a week at the City, Grafton, Epsom and Tai Tonga campuses and six days a week at Tai Tokerau, with friendly staff available to provide you with advice on any aspect of your studies and life at the University.