Global Studies addresses the growing need for people who understand current global issues and are prepared to tackle them in our fast-changing, complex world.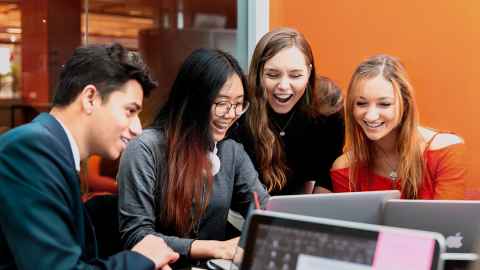 We're part of an international community of universities offering programmes in Global Studies. Our Bachelor of Global Studies is unlike any other degree in New Zealand. We offer you the opportunity to answer some of today's most pressing global questions using a set of skills tailored to your interests.
The Bachelor of Global Studies will deepen your understanding of the links between local experience and global issues. You'll gain competency in another language and insights into a region where your chosen language is spoken. This will help you to cultivate cross-cultural understanding and communication skills. Internships, workshops and research projects will help you develop leadership skills and critical thinking.
By the end of your programme, you'll have various lenses through which to examine the world. You'll be well-equipped for careers both locally and globally in a variety of fields.
If you are interested in continuing to postgraduate study, we are planning to introduce a Master of Global Studies for 2022.
Future-proof your career
The world of work is changing rapidly and in ways we can't predict. Through interdisciplinary, practical approaches, the Bachelor of Global Studies will help you look at the world in new ways. You'll be encouraged to question, adapt and grow, enabling you to be flexible and resilient for a wide range of career possibilities both in New Zealand and overseas.
You might work in an international organisation in the public or private sector, in international development, the creative sector, local or national government, an NGO or not-for-profit, foreign affairs and diplomacy, the environmental sector, or international media.
Global Studies graduates work as:
Human rights advocates 
Journalists 
Policy analysts
International trade consultants 
Professionals in the cultural sector 
Foreign correspondents
Creative administrators 

There are many other career possibilities. As part of the Global Studies programme, you'll have opportunities to develop practical employment skills and "on-the-job" experience through internships, workshops and research projects.
Conjoint programmes
Pursue your interests in two different fields by combining a Bachelor of Global Studies with another degree. Conjoint degrees are a great way to increase your versatility and breadth of skills. You can study in two different fields and finish in less time than it would take to complete two separate degrees. Keep in mind that conjoint programmes involve a heavier workload and you're expected to maintain an average grade of B- or higher.
Find out more about conjoint programmes.
Study overseas
With access to more than 130 partner universities, you'll have the option of studying for course credit, or finding an experiential opportunity that enhances your career options and broadens your mind. You can also consider going overseas to complete your language requirement and/or to collect material for your third-year research project.
See where you could go as part of the University's 360 International programme. 
Virtual exchanges
Our exchange partners and network partners have launched a range of virtual short courses and development programmes, offering you the opportunity to develop new global connections and quickly advance your academic, professional and personal lives – no passport needed.
Find out more about virtual opportunities.
Scholarships
We know that study is a big commitment, not least financially. The University of Auckland has a wide range of scholarships to assist with financial support.
Explore our scholarships and awards.
Postgraduate study
We are planning to introduce a Master of Global Studies for 2022.