Rebecca is a graduate of the Doctor of Philosophy in Biological Sciences and a lecturer in Wine Science at the University of Auckland.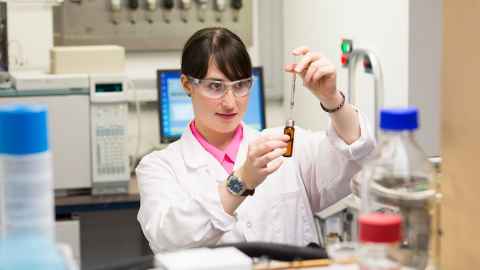 Pursuing a passion
Rebecca's PhD research investigated how different temperatures used during wine fermentation impacts the metabolism of yeast.
"I chose to pursue my doctorate because it was exciting to be able to select a PhD topic that was interdisciplinary, combining my love of genetics and aroma chemistry, along with my passion for wine. My decision to undertake my studies at the University of Auckland was for its strong research culture and world-class science performance.
I learned so many new skills during my postgraduate studies, and it allowed me to develop both professionally as a scientist and grow as a person.
Opportunities from postgraduate study
"My PhD has provided me with many opportunities. At an academic level, my research resulted in the publication of three journal articles in highly-regarded journals in the field of wine science. I was also able to attend three international conferences and present the work from my thesis.
"At a professional level, I was able to work for my supervisor as a lab technician for a year after my PhD, which led to developing commercial wine yeast strains along with some teaching experience. This led to postdoctoral and teaching work which was essential for getting my academic position at the University of Auckland.
"I have also made lifelong friends and developed networks for research collaboration."