Sarah is a graduate of the Master of Arts in Pacific Studies.
Research area
"My Master of Arts research thesis examined the professional experiences of mental health service providers who were working with, or had worked with young Samoan females aged 18-24 who had been diagnosed with depression.
Pacific Studies as a subject
"I really liked that the Master of Arts in Pacific Studies did not limit me in terms of what I could do for my research. You have so many brilliant minds in Pacific Studies who all have their unique passions and disciplines, but are brought together to collectively empower Pacific communities.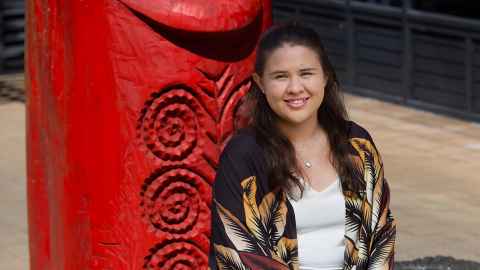 Finding mentorship
"I was very fortunate to have Dr Jemaima Tiatia-Seath as my tutor, lecturer and mentor. I was very interested in her work and was trying to figure out how I could make a difference for Pacific communities. I had always said that I would only do a masters degree if I knew it would be of use to others, and Dr Tiatia-Seath helped me achieve this.
"Having a wealth of knowledge from Pacific academics that you can tap into is a very unique aspect of Pacific Studies at the University of Auckland. The support you receive is incredible."
Pursuing a passion
"I chose to pursue postgraduate studies because I saw it as being essential in becoming a Samoan researcher in Pacific health. There is very little literature about depression within Pacific communities, let alone young Samoan females. I hope that my research will help to inform future service delivery to better support the mental health needs of this particular demographic, and to contribute to Samoan and gender-focused suicide prevention initiatives."
Meet more students
Arts students talk about their study, their plans for the future, plus share advice for new students.