Alex Su is studying a Bachelor of Fine Arts at Elam. He speaks about his experience as a first year.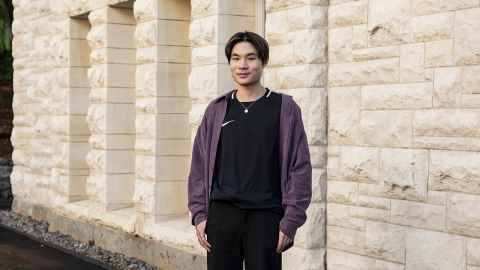 Leaving an East Auckland high school and studying at the Elam School of Fine Arts was not always the plan for Alex Su, 19. He initially applied for universities overseas, even getting into one in London. 
Ultimately, though, he decided to stay in Auckland, citing the vibrant art scene, culture and familiarity with the city as determining factors.
"There are always cool things happening in Auckland. And with how tight-knit the various communities are here, you never miss out on an interesting event." Plus, the range of galleries available in the city to expand his arts practice was a huge drawcard. "It's been really beneficial for my studies."
Alex also credits an Elam workshop in Year 13 as a huge reason for solidifying his choice to attend the University of Auckland and to major in Fine Arts, as it allowed him to see what opportunities were available to him. Two students from every high school were chosen to attend, and Alex picked from four different Elam workshops in order to check out what the programme was all about.
"That was really eye-opening, because it was so different to what we did for NCEA. I got the chance to talk to the tutors in Elam who are practising artists. They were all really great people, so I thought it would be great to stay and learn from them," he laughs. 
"The modules and way of thinking can be really different. Something I'm really proud of this year was doing a performance art paper, and I've never done anything like that before."
He encourages any prospective students to try and attend an open day, as physically being on campus is important to get a feel of the place. The University holds many opportunities that allow students to take an inside look into campus life, join a current student on a tour, talk to a student adviser and find out more about the courses on offer. 
"If you are only looking online or in prospectus booklets, you can't really grasp what's happening." If you're not in Auckland, you can also join a Future Student Evening, which are held across the country, to answer any questions you may have. 
University life and learning is very different to high school, something Alex had to adjust to in his first year. "That's been a challenge. But I've told myself to take a step back and I can always make changes."
Elam has taken Alex in with gusto, creating a support system around him of like-minded people. "I've made really good friends at Elam, but it's not the only way to do so. You can make them through clubs and sports. Some people I know have joined a basketball team and formed really great relationships through that."
Meet more students
Our blog, The Inside Word , is written by our first-year students who share everything you want to know about studying at the University of Auckland.