Aorthi is a final-year Engineering student, specialising in computer systems engineering.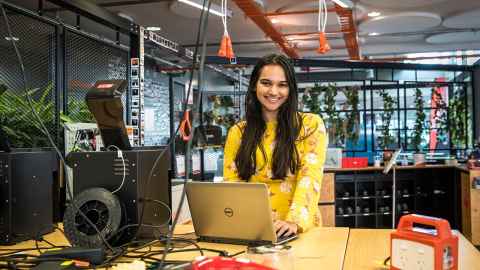 Aorthi Afroza admits she didn't think she'd fit in studying engineering. Aside from the fact she didn't like physics, the 21-year-old had heard any students who weren't boys, were tomboys.
"You think, 'I don't fit that stereotype so I'm not going to fit in and I don't want to do it'," says Aorthi, who - outside her studies - is producing the annual Engineering Revue theatre performance. 
"But then I came to an engineering event and met girls just like me; who like makeup, who are super extroverted and like to dance, act and sing!"
The hackneyed depiction of a typical female engineering student wasn't the only misconception Aorthi soon saw through.
"A lot of people don't think of engineering as helping people; but I now realise everything you do is about making lives easier. I also thought I'd be isolated and working alone, but it's the complete opposite."
Happily, she also discovered not all engineering involves physics - as is the case with her specialisation, computer systems engineering, which encompasses both writing software and creating hardware. One of her most memorable projects has been designing a robot's sensors, then programming it to work out the shortest path through a maze. "I just thought it was incredible," recalls Aorthi, who has interned as a web developer at Trade Me. "Here I was in my third year of engineering, already programming a robot to think."
As to the future, Aorthi is optimistic she will find a job that fulfills her need to make a positive impact on people's lives. 
"I'm very fortunate that my specialisation and the thing I love happens to be something that, especially in New Zealand, is a big industry - tech is really growing."
Meet more women in STEM
Our female academics and students share their experiences in STEM.