Dr Jessie Jacobsen is a lecturer at the School of Biological Sciences.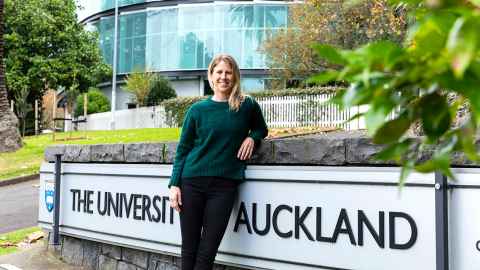 Anyone harbouring doubts about the impact academics can have on society should chat to Dr Jessie Jacobsen.
The biological sciences senior lecturer not only helped pave the way for a potential revolutionary treatment of Huntington's Disease, her research now gives hope to Kiwi kids with neurodevelopmental disorders.
"Nothing beats being able to deliver a diagnosis for a family, and in some instances provide life-saving treatment. It's just incredible," says the former Young Scientist of the Year. "Those moments just make it all worthwhile."
While Jessie has spent almost 20 years studying biology, she admits when she enrolled at the University of Auckland to do a Bachelor of Science, she was unsure where it would take her - "as an undergrad I wouldn't have been able to tell you what a PhD was!"
It was being exposed to a broad range of research that allowed her to discover her passion for neuroscience and genetics, an interest which led to her studying with scientists at Harvard Medical School, beore taking up a prestigious Rutherford Discovery Fellowship in Auckland. 
"To be in an environment where you can constantly learn, be challenged and dream is quite a unique place to be in. Sometimes you find things no one else in the world has found before, which leads you on to biology no one has discovered."
Today, her work involves analysing the genetics of Kiwi kids with developmental disorders in a bid to find the cause of their conditions, as well as passing on her knowledge as a lecturer to undergraduates. Her enthusiasm for what she does is palpable.
"It can be really hard yakka, but in wanting to change things, you end up doing incredible projects."
Meet more women in STEM
Our female academics and students share their experiences in STEM.