Summer Start International
Study as an international student at the University of Auckland over summer to experience life on campus, get a head start on your degree and explore Auckland City.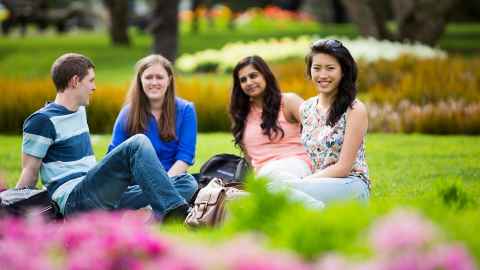 Summer School dates
Summer School classes begin on Thursday 5 January 2023 and end on Wednesday 15 February. Orientation will take place on Wednesday 4 January 2023.
Is Summer Start International for me?
If you are an international student currently in New Zealand and are graduating from a New Zealand high school or foundation programme, Summer Start International with the University of Auckland could be the perfect transition for you.
Your plans to travel home might have been disrupted due to Covid-19, and maybe you're not sure what to do over the summer break before you make a start on your degree.
With border restrictions making travel uncertain, you could stay in the safety of our modern, fully-catered accommodation on campus in the heart of Auckland City for six weeks.
Travel grant
International students coming from outside of Auckland are also eligible for a travel grant to cover up to $600 of your airfare.
Academic enrichment
If you are planning to enrol in a full degree with the University of Auckland, you can get a head start on your studies by joining us for Summer School.
You will complete one course that will count towards your University of Auckland degree programme* before Semester One classes start.
If you intend to enrol in a different university after Summer School, you may be able to transfer your credit.
*Conditions may apply for students intending to apply for Engineering, or clinical programmes, e.g. MBChB, BPharm, BOptom, BMedImage.
Activities
The focus for Summer School is not just on academic preparation, but will also include free, fun social and cultural activities outside of class time. You can enjoy optional extras and more at no additional cost, for example:
Orientation
Quiz nights
Day trips around Auckland
Weekly sport sessions
Summer barbecue

Common room with games
Make new friends, explore Auckland City in your free time, and get a taste of what life on campus is like!
Frequently asked questions
Do you have a question about our Summer Start programme? Check out the Summer Start FAQs for more information.