Inside this issue of UniNews: Dr Joel Rindelaub, the comical chemist; Dr Kelly Burrowes and why vaping research is so important; Dr David Moreau on how to improve your health in ten minutes day; Prof Brian Boyd's generous gift; plus all that's Good to Know and In the News.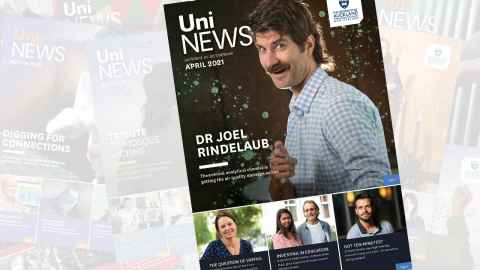 Cover story
Dr Joel Rindelaub arrived in New Zealand to play ice hockey but science has kept him here. 
Features and Regulars
Dr Kelly Burrowes sets to work on a three-year research project about the safety of e-cigarettes.

What can we do to value mātauranga Māori in academic institutions, asks Professor Linda Waimarie Nikora. 

All it takes is ten minutes a day. 
Two new scholarships are giving students who may not who have been able to come to uni a big boost. One is the Brian Boyd First in Family Scholarship and the inaugural recipient has been named. 
Good to Know
All these items on PDF only
Maths Medal adds up for Marston Conder pg 4
Times Higher Education Innovation and Impact Summit pg 4
Dr Helen Murray's brain scans for Covid-19 research pg 4
Hopes for Polyfest to return to joy pg 10
Scholars honoured by Royal Society pg 10 
Q Theatre Uninvited Pg 10 
Tāmaki Herenga Waka: Stories of Auckland Pg 11
Staff make Ockham Book Awards shortlist Pg 11 auckland.ac.nz/ockham-shortlist
World Creativity and Innovation Week Pg 11 wciw.org/celebrations/new-zealand/

New books Pg 11
Global Health: Ethical Challenges (Gillian Brock)
Rising Tide (Hilary Lapsley, as Jennifer Palgrave)
Cold Wallet: Locked, Loaded, Gone
 
In the News (see page 2 of PDF)
Student Cui Le 
Associate Professor Craig Radford  
Professor Tim Dare
Dr Andrew Chen
Professor Robert Greenberg  
GOT A STORY IDEA? DON'T DELAY GET IT TO US. 
Email us: uninews@auckland.ac.nz
UniNews editor
Denise Montgomery
DDI: +64 9 923 6061 In the office Tuesday-Thursday 
Mobile: 027 224 0181 Monday to Friday