Physicist Alan Maxwell's lifelong radar love
Dr Alan Maxwell is an eminent physicist specialising in solar radio astronomy. These days, giving back is on the Golden Graduate's radar.
When Alan Maxwell set up twin Yagi antennae on the roof of the Biology Building at the University, it signalled the beginning of a stellar career. From mid-1947 until the second half of 1948, the aerials tracked the sun at 100 MHz in a solar radio astronomy project for Alan's Master of Science. He found that "in general when solar noise was received, there were sunspots on, or near, the sun's meridian".
The findings, linking radio signals with solar energy, formed one of the world's first postgraduate theses on solar radio-astronomy although, following the custom of the time, it was not published.
"I was just a student and nobody would have been aware of my research," says Alan, now 93. "I only found out a number of years later that similar work was under way in Australia and under Wayne Orchiston at the Carter Observatory in Wellington.
"I'm not sure whether some kind of post-war secrecy played a role, but it would have been good to know about Orchiston's work earlier."
Joseph Taylor, whose doctorate I supervised, was awarded the Nobel Prize in Physics in 1993. It was a highlight in my career.
Alan's pursuit of a rapidly developing scientific field drew him overseas, to the University of Manchester's Jodrell Bank Observatory. He undertook research for his PhD in radio-astronomy, under eminent physicist and radio astronomer Sir Bernard Lovell, the observatory's first director. In 1953, Alan was awarded his doctorate in physics.
His next move was to the US where he built an international reputation in solar radio astronomy. He joined Harvard University and led a project to establish the Harvard Radio Astronomy Station. Alan's practical experience as a solar radio observer showed it was important to avoid interference from man-made transmission services, such as communications and broadcasts.
"Instead of siting the radio equipment on the mountain top with the observatory at Sacramento Peak, I looked for a sheltered valley and found an ideal location near Fort Davis in Texas," he says. "It was 1,609 metres above sea level and 322 kilometres from the nearest town."
The station began operating in 1956 and its solar programme ran until 1982. That meant three decades of commuting between Fort Davis and Cambridge, Massachusetts, and Alan's lecturing commitments at Harvard, where he taught many future leaders in the field.
"One really stood out, Joseph Taylor, whose doctorate I supervised. In 1993, he was awarded the Nobel Prize in Physics. It was a highlight in my career."
Among Alan's peers were British astronomers and physicists Robert Hanbury Brown and Richard Twiss, famous for the Hanbury Brown and Twiss (HBT) effect in physics. Their work led to his Harvard colleague Roy Glauber's experiment in quantum optics, which earned Glauber a joint Nobel Prize in Physics in 2005. For a number of years after his retirement, Alan kept an office at Harvard.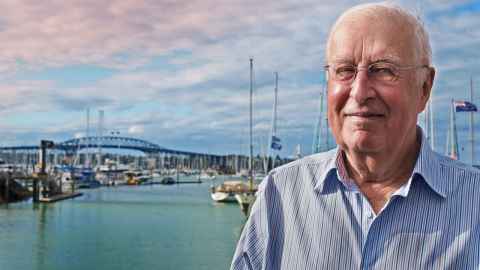 Alan grew up in Northcote, Auckland, where he learned the piano and organ. He was 16 when he gave his first public organ recital in the Auckland Town Hall and he regularly played at church services.
Like science, music is a constant in his life as is, in his later years, travel. Prior to Covid-19, he attended concerts and science seminars across the world, and returned home to New Zealand each summer to catch up with family, including Associate Professor Scott Parkins from the Department of Physics.
Unfortunately, pandemic restrictions are unlikely to relax sufficiently to allow his annual Christmas dinner with family in Auckland in 2020.
Alan's connection with home, and interest in his alma mater, is behind a generous decision to leave a gift to the University in his will. The Alan Maxwell Fund will support the Faculty of Science and he's happy for it to be used as the faculty sees fit.
"I don't have a philosophical explanation for doing it," he says. "It's enough for me to know the gift will be used appropriately."
Louise Callan
Golden Graduates
Our Golden Graduates are those who graduated from the University of Auckland 50 or more years ago, along with graduates aged 70 and over. 
This story appeared in the Spring 2020 edition of Ingenio.