Three alumni flying the flag for Auckland overseas
From working in decision science to creating art, three University of Auckland alumni around the globe talk about their fulfilling lives.
By Wendy Colville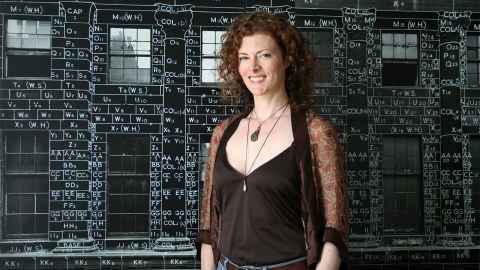 It's an absolute privilege to work full-time on my art.
Cat Auburn, Newcastle upon Tyne, Northumberland, UK
Leaving New Zealand brought a new lens to Cat Auburn's creative practice.
"It gave me perspective on my heritage, someone who is from a Pākehā and colonial background, and what it means for me to be a New Zealander," says the multi-media artists. "And an understanding that every creative endeavour comes from that perspective." 
Cat completed a Bachelor of Fine Arts, then a Postgraduate Diploma (Hons) at Elam and her art ranges across sculpture, filmmaking and installations.
She was awarded an AHRC Northern Bridge Consortium studentship and is working on her PhD at Northumbria University. She also recently spent time working with celebrated British sculptor Antony Gormley.

Investigating culture and identity is a constant theme in her work.
Her award-winning 2016 exhibition, The Horses Stayed Behind, was about the 10,000 horses that left New Zealand for the frontline in WWI, with only four returning. Cat created a five-metre work featuring 700 flower rosettes painstakingly crafted from horsehair, similar to those made from human hair in Victorian times as memento mori.

Her thesis examines Anzac stories from the WWI Sinai-Palestine campaign and the effect on ideas of nationhood, although plans to research in the Middle East have been shelved for now.

"I have to structure the work so it's fluid and can pivot at any point. But this project will be a picture of its time.
"The thing is, it's an absolute privilege to be working full-time on my art."
See catauburn.com

Cat's art on Instagram.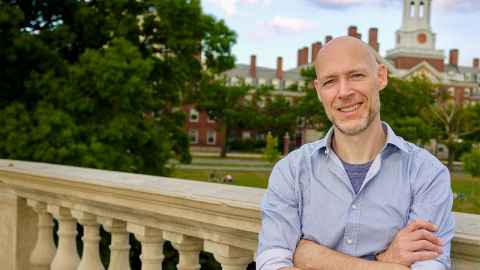 The Government has finite resources, so it's saying, 'how much of our budget are we willing to spend on healthcare versus infrastructure or education? What
generates the best outcome for the money?' That's the art of decision science.
Craig White,  Boston, United States
Decision science is Craig White's speciality. It's a science that focuses on making the best decision to maximise the chance of achieving a particular outcome, given limited resources and a set of constraints.

He applies those skills every day across all facets of his role leading a research team of 100+ people at a US-based healthcare start-up.

It's a science well informed by his University of Auckland engineering degree.

"An engineering degree produces problem-solvers," he says.

"It's about solving problems in a reproducible and scalable way. You take the problem, break it down into small pieces and solve those. That foundation has been the single biggest thing in my career."

Craig's doctorate at Harvard University in Health Policy (Decision Science) is also a vital tool in a world of limited resources and exponential choices.

Craig, 44, is senior vice president at ConcertAI based in Boston, Massachusetts, in the US. The company uses data and AI-enabled tech solutions to accelerate research and new treatments in oncology. For example, predicting which of the multitude of new cancer treatments available will work best for individual patients, or helping doctors understand whose disease will progress quickly and whose slowly.

Another example of how decision science is used is the way New Zealand decides which medicines to fund, and which to restrict.

"The Government has finite resources, so it's saying, 'how much of our budget are we willing to spend on healthcare versus infrastructure or education? What generates the best outcome for the money?' That's the art of decision science."

From his Boston home, Craig says New Zealand has had good press for its handling of the Covid-19 crisis, even with the August resurgence.

"The perception of New Zealand has been massively heightened as an example of how a government can operate collaboratively to get a policy implemented across the country.
"Yes, you are isolated, as an island, but you could easily have squandered that advantage with short-sightedness, and others have."

At ConcertAI, employees across the globe all now work from home. Craig and his wife, Andrea, both spend their days at opposite ends of the house, online.

"Everyone has to plan for the possibility that this could be here for a long time," he says.

"The benefit of New Zealand's approach is that they've found a way to operate relatively normally.
"The question is, how long can New Zealand go on and how well implemented is the solution to permit Kiwis to have normal lives?"

As to whether he's had any thoughts of bringing his skills home, he says: "If the right opportunity were to present itself, it would be hard not to come back home.

"I'm hoping for a call from Ashley Bloomfield or the health minister at some point!"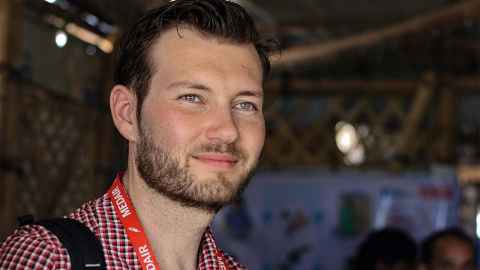 My studies challenged me to  look at 'out-of-the-box' solutions. Those skills are critical in my work where I look for efficiencies when having limited resources.
Carl Adams, Cox's Bazar, Bangladesh
Working in the world's largest refugee camp has put Carl Adams squarely in the everyday reality of the Covid-19 pandemic. "It's been the challenge of an 'emergency within an emergency'," he says.
Carl, 28, has been working as Bangladesh country director for Medair, a Swiss relief and recovery agency serving close to a million Rohingya refugees who have fled Myanmar.
"It's a bamboo city carved out of the jungle in the middle of nowhere. We've had to retrofit everything, sanitation, drainage, roads … and all in a super-densely populated camp."
Carl lives a short drive from the camp, in Cox's Bazar, a city that takes its name from the British East India Company era. His days are filled with meetings, many of them now online, as he co-ordinates agencies, government and local representatives. No day is the same, which suits the former Aucklander who completed a Master of Arts in Development Studies at this University.
"My studies challenged and grew me to be self-directed, to look at 'out-of-the-box' solutions. Those skills are critical in my work where I look for efficiencies when having limited resources."
Living in Bangladesh has meant adjustments.
"Working cross-culturally is an interesting dynamic. We're from a non-hierarchical society where people can have a voice, be listened to or engage in politics without fear."
He says Bangladesh has a real hierarchy of age, status and gender.
"I've really thought about where to follow the culture of the country and where to challenge things. I've worked to elevate the voices of team members, for instance having women in leadership roles which is pretty non-typical here."
Cox's Bazar has a long coastline, which is an asset, although going to the beach has cultural differences, too.
"Thousands of people come from other parts of the country – it's a holiday experience and a photo opportunity. They come dressed in their finest clothes, jeans and walking shoes while I'm there in jandals and shorts."
Carl will be able to put on those jandals and shorts and feel perfectly at home now though – he's arrived back in New Zealand for summer and has just taken up a role as international programmes director at Tearfund New Zealand.
This article first appeared in the Around the Globe section of the Spring 2020 edition of Ingenio magazine. 
Carl Adams is also on the 2020 40 Under 40 list. Watch his interview with alumnus journalist Andrew Patterson below.