Chicken panini lunch opens door to an operatic career
Music School graduate Manase Latu's artistry has been rewarded with a rare opportunity ... and it all started with a chance encounter at the tuck shop.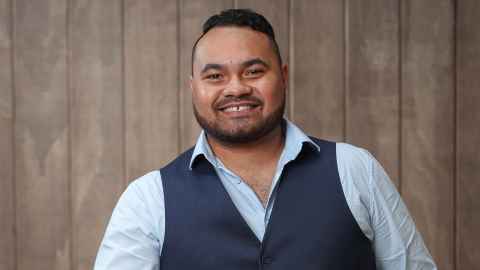 By Pete Barnao
Tenor Manase Latu is set to join the Metropolitan Opera's Lindemann Young Artist Development Programme in New York.
The School of Music graduate is the first singer of Tongan heritage – and one of just two of New Zealand or Pacific origins – to gain a place on the prestigious two-year programme, which attracts world-class applicants from around the globe.

Manase will be joined on the programme's 2020-21 roster by another former University of Auckland student, New Zealand-born Samoan bass-baritone Samson Setu. The singers have been friends since they met as voice students at the University and performed together in Auckland-based quartet The Shades.

"I was offered the place within an hour of auditioning and … I was shocked," Manase says. "I took about a month to accept because I was just trying to come to grips with how big this opportunity was. Then I told myself to jump in the deep end."

He has been studying at the Royal College of Music in London, but came home ahead of the borders closing.
"My time there gave me the chance to concentrate on languages as well as the singing. It's a demanding course vocally and physically, but so worthwhile. At Auckland there was a lot of academic writing, which is beneficial, but being in a conservatory model at the Royal College hones in on performance, language and diction, and it was great to be immersed in that."

He says he knows this opportunity will open doors. The Metropolitan Opera, aka 'the Met', is North America's largest classical music organisation. Founded in 1883, it brings together leading singers, conductors, composers and musicians and has hosted performances by some of the greatest artists. It established the Lindemann programme in 1980 to identify and develop extraordinary young talent.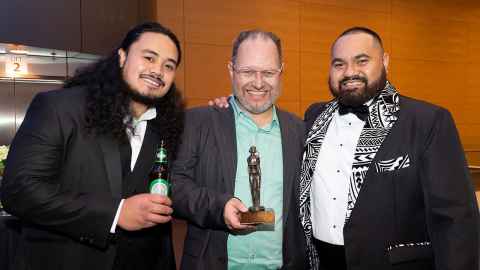 I was walking around one lunchtime going to buy a chicken panini from the school tuck shop and the choir conductor pointed to me and said, 'Hey, you look like you can sing!
He is "excited and nervous" about the opportunity to mingle with leading opera figures and, in his second year, to perform on the Met's main stage. It's the latest achievement for the 24-year-old from Ōtāhuhu, who graduated in 2018 with honours in classical performance (voice) under the tutelage of Dr Te Oti Rakena.
"Manase came to work with me when he was only 16," says Te Oti. "He had a young instrument with a beautiful free quality, but what distinguished him was his artistry, which was mature and refined for his age. It was clear he was on a trajectory to the international stage."
Manase has drawn inspiration from the likes of Kiri Te Kanawa, Jonathan Lemalu and, more recently, alumnus Moses Mackay and Pene and Amitai Pati of classical trio Sol3 Mio.

"I saw these people sing and was inspired to get involved. That snowball effect is driving the next generation of Pacific singers," he says. "Being Tongan, I grew up in the church and music is so embedded in our culture. I grew up in a very musical background without really knowing it."
His first foray into formal singing was joining his school choir at Saint Kentigern College after a chance encounter with the conductor. "I was walking around one lunchtime going to buy a chicken panini from the school tuck shop and the choir conductor pointed to me and said, 'Hey, you look like you can sing!'
"I thought, ok, why not, lunch can wait. So I went with him into this music room and sang a couple of songs."
That led to an invitation to rehearsals and so began his road to a singing career.
"So that just popped out of nowhere and changed the course of my life," says Manase.
"Just being in the right place, at the right time, with the right people.
"That's what I think about getting into this programme, too; everything aligned. It was luck. But luck is when opportunity meets preparation. A lot of hard work has gone into this, too."
This article appeared in the Spring 2020 edition of Ingenio magazine, the alumni magazine of the University of Auckland.