In praise of the humanities and the values they impart
Professor Tom Bishop shares his love of Shakespeare and gives a standing ovation to the humanities and to his students.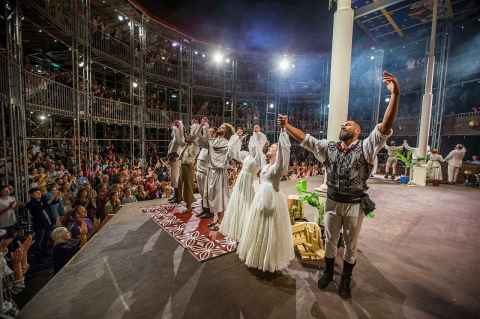 Engage in a conversation with Professor Tom Bishop and it quickly becomes clear that he is passionate about the humanities and the path each discipline sets towards originality, flexibility and openness to taking a chance on the unpredicted. Talk a little more and it's obvious how deeply he cares for the students who choose to study these subjects and, in particular, those he teaches and has taught in the area of English and drama.

"The best students I see now are no different from the best students I saw when I was first here – in their liveliness, their imagination and their readiness for experiment. The pleasure of teaching them and getting to know them as individual people never changes.

I am proud to count many ex-students as friends. It is so rewarding to see how their careers are developing and keep track of their lives.
But while the quality of students electing to study the humanities is still a cause for celebration, Tom is disheartened at recent trends that have brought increasing expectations that university study must come with a clearly defined career goal.
"There is an impatience with less clearly outcome-driven forms of education that might be more exploratory and less directed by outside measures," says Tom.
"A humanities education is not always measurable in an easily quantifiable way but, without doubt, it leads to mental flexibility and an encouragement to think across disciplinary and thought boundaries.
"It is more improvisatory – students explore syntheses that aren't predicted at the outset. They make their own paths, gather expertise more slowly but often more widely compared to disciplines that prefer faster upskilling and more measurable outcomes. In a world of work that is itself constantly changing, this is a useful ability. But it is also a good in itself."
Although he considers the failure to recognise the benefit of this education to be unfortunate, he accepts there is a need to explain more effectively and clearly what use the humanities are and what value they offer. However, he argues strongly for a redefinition of 'value.'
"Humanities have ceded too much ground on what value is. Value is now too often defined in fiscal terms, but there are other forms of value that have not been so recognised, or championed quite as effectively.
Humanities subjects offer values central to the name – human values that help people better understand and enjoy the lives that they get, instead of simply toiling on the economic treadmill.
"We need to make it clear what kinds of pleasures and experiences these subjects bring to enrich our lives and say to people: you have one life, don't allow it only to be a metric for someone else's machine, someone else's gain."

Tom's own love of the arts, and in particular his inclination towards drama, began during his Melbourne childhood. One of his memories is of a primary school friend whose 'show biz' family owned an ice skating rink that hosted Disney on Ice and other visiting shows. The boys would make up plays for themselves and at school.
"Particularly memorable," says Tom, "was a sixth-grade lip-synched version of The Mikado staged in the tiny school library, with dressing-gown costumes and a spectacular black-light finale!"
An interest in drama was also fostered by his parents, who sometimes took him to the theatre. It was during one of these trips that Tom happened upon Shakespeare.
He had been taken to Peter Brook's famous production of A Midsummer Night's Dream, which was in Melbourne at the end of a world tour. Brook's Dream pushed the boundaries of traditional staging and, at the same time, sparked the interest of the 12-year-old Tom.
"My parents felt it was rather tired after the long tour, but for me it was all wild time. The mad unexpectedness, the playfulness and willingness to take risks – even if I wouldn't have called them risks then. The magic flower was a spinning plate on a stick, the actors threw streamers and walked on stilts. It was like a carnival held in a big white box."
And ever since then, he has been acting in and studying Shakespeare, and forging a long and successful academic career from love of Shakespeare's work.
Tom's path into academia began at the University of Melbourne where he studied English Language and Literature and did a lot of acting. He went on to Yale University in the United States for his PhD in the same subject, where he did less acting – although he did play the ghost in Hamlet, performing once again in a library.
He remained in the States for 18 years, working as an English professor at Case Western Reserve University in Cleveland, Ohio, teaching Shakespeare every year, doing almost no acting but singing with the chorus of the Cleveland Orchestra.
The University of Auckland drew him back to this part of the world in 2006 with a job offer that meant he would be working alongside academic friends and colleagues whose work he admired, and living nearer to family and friends still in Melbourne.
Even though he has three decades of Shakespeare study behind him, Tom insists he is still learning.