Kate Bell: choir director in tune with communities
It took a nudge from staff in the University of Auckland School of Music to get Kate Bell where she is today – teaching singing to the masses.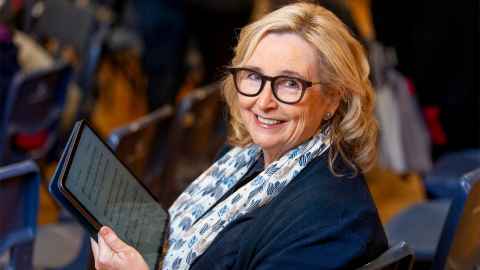 It is no good thing to be stricken with a cold at any time – especially if your larynx is your livelihood.

But Kate Bell is putting a brave face on it, despite not being able to perform for the two days before we meet. And perhaps the enforced break has brought some benefits, given that, when lockdowns aren't interfering, she is in voice at least five nights a week.

Kate is music director at Everybody Sings – a choir collective that encourages people to learn the enjoyment of singing at the hands of skilled professionals. Anyone over the age of 16 is welcome.

No experience required. No auditions needed. It's a balance of social and musical goals: participants make the best music they can, with the best choral teachers – creating communities in which people can belong.

There are five Everybody Sings choirs: four in Auckland, another in Tauranga. Total membership is 400. There's also a fledgling children's choir. But Kate has wider horizons.
"We have international franchising in our sights."
I'm interested in all those people who sing into their hair brushes, who were filtered out of the school choir because they were told they weren't good enough.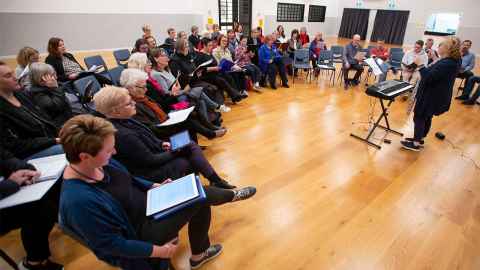 Out of a sense of personal failure came the social enterprise that she now heads. Despite completing a masters in music from the University of Auckland as an adult, there was a time during her earlier years of study when Kate – a soprano – had her personal musical doubts. She had enjoyed music lessons as a child and wanted to be a singer when she grew up.

"But I lost my confidence. I didn't originally do any music studies at university because I didn't feel my musical background was up to it."

Kate and co-founder Melonie Roberts established Everybody Sings in 2017. They and their partners, Graeme Bell and Paul Roberts, are co-directors.
"I'm interested in all those people who sing into their hair brushes, who were filtered out of the school choir because they were told they weren't good enough. We are providing the opportunity for people to learn the skills."

Her path to her masters spans some decades. It started with a BA at Auckland straight out of school, when she dabbled in psychology, English literature, philosophy and Māori studies.

Then there was a spell abroad and a break from academia before returning to New Zealand, where she stumbled into teaching music to schoolchildren. Kate then started her music studies at the University in 2008. That's thanks to Emeritus Professor Heath Lees – head of music at the time – who referred her to Dr Karen Grylls, Associate Professor of Conducting and Head of Choral Studies. Karen encouraged her to start a part-time graduate diploma in music.

Kate's love of music was re-ignited. A postgraduate diploma in music was followed by a masters degree in which she majored in composition, and that she completed in 2016.

"The wonderful music department at Auckland has played such a key part in this. What I'm doing now would not have been possible without the extraordinary, quality teaching of the choral staff," Kate says.

Everybody Sings has nine choir leaders, including Kate. Seven have music degrees. Kate ordinarily arranges most of the music.

The choirs meet once a week when Covid alert levels allow and also give public performances. That includes an annual concert in Auckland to raise money for the Auckland City Mission (last year they raised $25,000). Unfortunately the concert planned for December 2021 has had to be rescheduled until April 2022.

Kate, a self-described "ridiculously busy" woman, also belongs to the University Chamber Choir. They, together with other alumni, were due to perform at Associate Professor Karen Grylls' farewell concert in November but Covid-19 also put paid to that. The group will honour Karen's contribution as soon as it can.

If you ever see Kate on stage, remember this: "Singing triggers our deepest feelings about ourselves," she says. "Our choir members would laugh if they heard me say I didn't think I was ever good enough. That tells you how little we understand about what we can do and about taking that risk."
Story by Geraldine Johns

Everybody Sings website: thechoir.co.nz