'This PhD is about our aiga, our whānau': Toleafoa Dr Yvonne Ualesi
Doctoral graduate Toleafoa Dr Yvonne Ualesi says her PhD is a collective effort.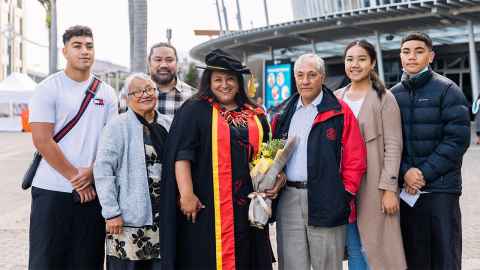 Toleafoa Dr Yvonne Ualesi shares what gave her the strength to complete her doctoral studies: her village. Of Samoan, Tokelauan and Fijian descent, Dr Ualesi was gifted her Matai title 'Toleafoa' from her aiga the week after she handed in her Education PhD.
"It took me about five years to finish, keeping in mind I took six months off and also extended for six months. The week after I handed in my aiga called me and told me, 'Yvonne we want you to have the title, Toleafoa'. It was a whirlwind and I am still so honoured," says Dr Ualesi.
A trained primary school teacher, who also holds a Bachelor of Education with first-class honours, Dr Ualesi came to her PhD from classroom teaching.
As Samoan rapper Savage says 'Pito Saute Aukilagi', Dr Ualesi was born and raised in '274' Ōtara and still remains a proud resident of Saute Aukilagi. Her PhD research focused on youth development for young people who aren't in education or training.
When discussing her doctoral journey, Dr Ualesi describes with raw honesty the tough times, stating that undertaking a PhD can take you to places you never thought your mind would go.
Her passion for her community and her faith have proven to be key drivers in her success. An active member of her church and sports community, Dr Ualesi talks about the sacrifices she had to make to get this far.
"I just had to focus, I had to drop anything that was not writing because at the end of the day it was just me and this PhD, no one else was going to write any of it for me. So I did. I stopped my church commitments, my fitness commitments (she laughs), any shared writing groups.
"There were days I wrote sitting on the floor in the room, just me and my laptop for days in a row with no sleep. You know it's so hard to get on a roll with writing so when I did I just had to keep going because I knew if I didn't, this would not get done. My husband would come and check on me and I would be like, 'Please just do the kids I just need to do this'. He was amazing through it all."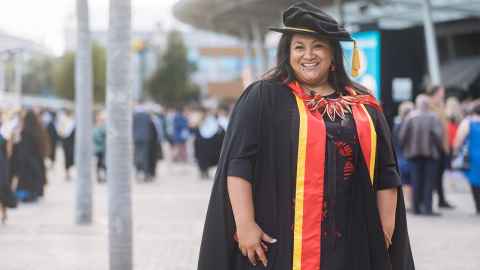 Dr Ualesi also reflects on the positives in the PhD journey - such as her peers. Studying with others across the University made it bearable at some of the most difficult times. Also having a strong working relationship with her primary supervisor, Professor Melinda Webber, whom she credits with patience, kindness and honesty through the years.
Dr Ualesi is now the Academic Quality Lead and a senior lecturer in the Bachelor of Education Pasifika at Manukau Institute of Technology. It's a role that allows her to shape the way our future educators see and teach Pacific students.
Dr Ualesi dedicates her educational success to her mum, her children and her wider aiga.