Emerging pop duo Ersha Island 二沙岛: embracing two identities
Pop duo Ersha Island went from the China Conservatory of Music in Beijing to high school in Masterton. The sisters talk to Megan Fowlie.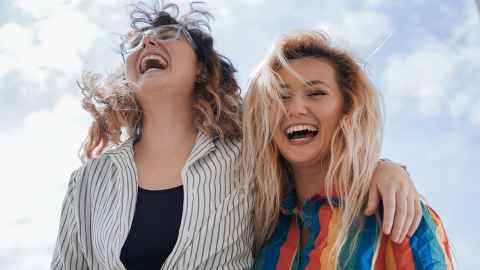 Siblings Dani and Tee Hao-Aickin, aka Ersha Island 二沙岛, meet Ingenio in a suburban café. It's a Friday, the one day a week they dedicate to the business end of music-making: photo shoots, interviews, content development, and social promotion.

Dani, 23, has recently graduated from the University of Auckland with a Bachelor of Music majoring in popular music studies. She has a string of accolades, winning a top achiever's scholarship in 2018, and in 2020 earning the President of the Year Award for her work in the University of Auckland School of Music Students' Association. Tee, 20, is on a year's break from her undergraduate music degree to focus on the pair's foray into the popular music scene.

Making layered, lyrical, melodic music is an exploration of self-discovery for the emerging pop duo, who released their singles Good Day and Gut Feeling in February. After delays, the date 22.02.2022 presented itself. Tee saw it in two lights – a quirky opportunity and an auspicious sign of MìngYùn 命运, a predestined gift.

For three years, the sisters attended the China Conservatory of Music in Beijing, Dani studying piano and Tee, violin. But a prolonged, intensely regimented training schedule throughout childhood left them both with elements of trauma about classical music. Later, on the other side of the world at Solway College in Masterton, where they both graduated as dux, they began experimenting with pop music.

"Concrete Acoustics, Amygdala and Retenu." Tee smiles as she recalls the bands formed with classmates, holding a World Vision concert, and placing at the RockQuest regionals.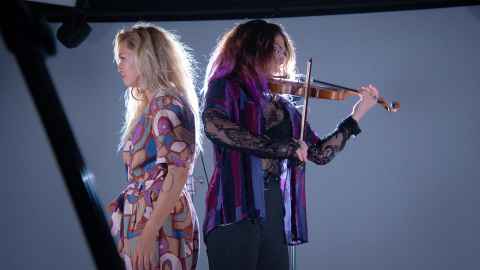 We wondered, where do we fit, or do we fit in at all?
Dani says although they are polar opposites in personality, playing together made them realise how easy it was for them "to mix", while Dani rediscovered her love of music through song writing.

The Wairarapa town, known for the annual Golden Shears competition, is a substantial cultural distance from Shenzhen, Guangzhou, and Beijing where the sisters grew up.

"Our father is New Zealand born, our mother Chinese," explains Dani. "After the bustle of Beijing, with a population so much higher than New Zealand's, they wanted something quieter."

In China, 'mixed race' meant the girls were considered foreigners. To counter that, Dani built up an idyllic fantasy of what it would mean to 'belong' in New Zealand. Unfortunate slip-ups on arrival, such as being featured as an international student from Hong Kong, fell hard up against racial slurs, making the real experience the opposite to what she had imagined. Dani responded by suppressing her "Asian side" while Tee's more Caucasian features meant people assumed she was Kiwi.

"In a weird way that was nice," says Tee.
But, with no one to speak Mandarin, afloat from Chinese customs, and the emptiness of provincial New Zealand, Tee says she quietly "lost her mind".

On many levels, life seemed one of irreconcilable identities, says Dani. "We wondered, 'where do we fit, or do we fit in at all?'

"In 2020, we started a platform Where's the Asians At?! to find other Asian artists and musicians in New Zealand. Through talking with them, even if they are not mixed-race kids, we found their stories are similar," says Dani.

It has helped set in motion reconnections on their own terms.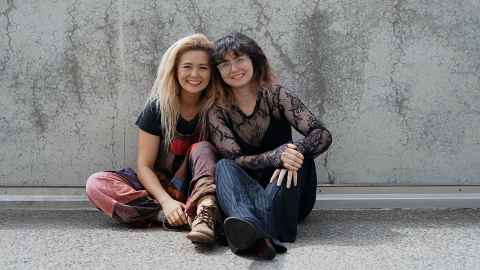 I've realised we can embrace both identities. We don't have to identify
with either – but the mix of the two.
Earlier this year, the pair were awarded a $35,000 grant from the Asian Arts Fund, by Foundation North in partnership with Creative New Zealand, to produce their first EP Back to Our Roots. It explores their past, and the loss and reclamation of cultural identity in mixed heritage and third-culture kids.

Alongside the EP, they are filming a mini-documentary showcasing the artists they are working with and shedding light on the struggles and strength of these creatives in Aotearoa.

Dani says right now their music is centred on being "biracial".

"We are writing in English and Mandarin, and we're inspired by a lot of authentic Chinese music."

"I've realised we can embrace both identities," says Tee. "We don't have to identify with either – but the mix of the two."
This story is from the University of Auckland's alumni and friends publication Ingenio, Spring 2022 issue. 
To republish in part or full, contact ingenio@auckland.ac.nz