The truth about 'normality': there may be no such thing
Feature: Educators, advisers and a doctoral student talk about inclusive education and why neurodiversity isn't 'abnormal'.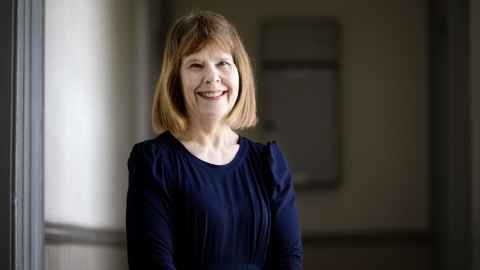 Paradigm is a fancy word to describe a way of observing the world. When a particular way of viewing things has become accepted wisdom, it can be hard to shift to a new way of thinking. Yet that is exactly the goal educators are seeking – a paradigm shift that ensures all students can succeed in our education system.

Dr Jude MacArthur is a senior lecturer in the Faculty of Education and Social Work (EDSW). Her speciality is inclusive education and disability policy. When she was a student, the dominant thinking around neurodiversity came from the 'pathology paradigm' – students were viewed as abnormal and were categorised using labels such as attention deficit hyperactivity disorder (ADHD), autism spectrum disorder (ASD), dyslexia and dyscalculia (a learning disorder that affects ability to do maths).

"It was deficit-oriented, based on the idea that we need to fix these broken kids to make them 'more normal'," says Jude.
"Thankfully, it was the autistic community itself that questioned that and said, 'We're not broken, we are who we are. The responsibility is not on us to become some kind of normal, whatever that is.'"

Inclusive education embraces the neurodiversity paradigm, a more nuanced and equitable approach, that reframes what was once a 'pathology' to a valued aspect of human diversity.

"This paradigm challenges the idea that anyone who is neurodivergent is abnormal and we require them to be fixed to be more 'normal' and to fit into our education system," says Jude.

"That's an old way of thinking. We can value neurodiversity as an aspect of human diversity that we expect, that we see in our communities. We made up this idea that there was a thing called normal and anyone who sits outside of that is considered abnormal."

That puts the responsibility right back on society to understand and adapt. Take, as an example, an autistic child very focused on one subject, such as spaceships, perhaps to the point where others might describe it as an obsession.

"We used to think that autistic kids focusing on one topic all the time was a problem. That's how it was under the pathology paradigm. But now we'd say, 'Isn't that great? It's a strength.' A teacher might then set a lesson or module that includes everyone and it's all about spaceships."

Jude isn't denying there can be challenges for neurodivergent children in the classroom – they can be sensitive to noise or light, and feelings of being overwhelmed may manifest in their behaviour.
"As a teacher, I have a puzzle in front of me. The problem is not in the child, but the context. What do we need to change to ensure that child is able to learn well and have a sense of belonging?"
We made up this idea that there was a thing called normal.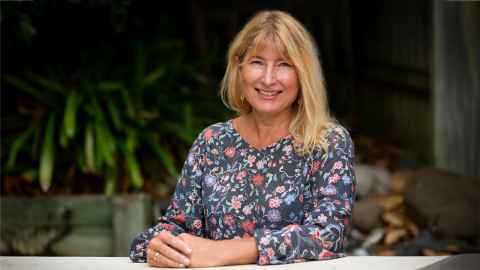 Professor Karen Waldie approaches the subject as a neuroscientist at the School of Psychology and the Centre for Brain Research. She says an estimated one in ten New Zealanders has some form of neurodivergent thinking and behaviour. Her research explores ADHD, ASD, dyslexia and dyscalculia.

"Many people don't realise the amount of variation there is in the human brain. It's not that neurodiverse children are 'abnormal'. They simply have a harder time with traditional Western education."

Karen's research looks at the cognitive and biological markers of conditions like ADHD.

"Almost all neurodiversities are highly heritable," she says. "We just have to look in the family tree for parents, siblings and grandparents who may have struggled in education and there's a good chance other members of the family do too."

Karen's dyslexia research shows that while it is common to use the 'verbal' left side of our brain to understand words, "dyslexic people use the 'pictorial' right side – making them slower to process and understand language, but stronger in creative areas like problem solving, empathy and lateral thinking".

"When I arrived in New Zealand from Canada more than 20 years ago, I was shocked there wasn't support for dyslexic children, and dyslexia wasn't recognised as a condition."

Karen received Faculty of Science and philanthropic funding to carry out a study, which showed brain-based differences between neurotypicals and those with dyslexia. The brain scans helped the Ministry of Education formally recognise dyslexia in 2007.

Now she's involved in an ADHD study using functional Magnetic Resonance Imaging, which reveals activity in the brain when people perform mental tasks. This interdisciplinary work is being carried out using high-tech brain-imaging facilities at Mātai Medical Research Institute in Gisborne, with the help of physicist Associate Professor Samantha Holdsworth, Associate Professor Justin Fernandez from Engineering and three doctoral students.

"Preliminary research shows that while neurotypical people show specific areas of brain activity when at rest versus performing a task, neurodiverse people do not show this uncoupling. Interestingly, their frontal lobes normalise when they fidget."

That means fidgeting is not only normal for children with ADHD, but it's also good. However, it doesn't always go down well in a learning environment where sitting still and paying attention are valued behaviours.

"But if we consider education from about 200 years ago, these kids wouldn't have been considered to have a problem because there was little in the way of universal education or literacy standards."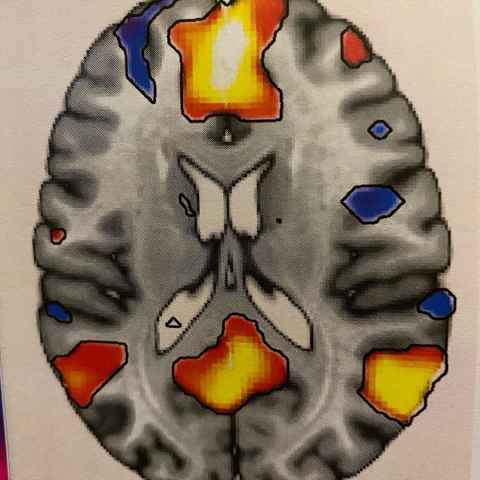 Just because we have reformed our education system, you
can't expect our brains to have evolved that much.
Back then, children also learned about life's more practical aspects and may have left school early. A summer scholarship undertaken by Bachelor of Education student Katie Lilburne in 2022 uncovered evidence of how past education curricula may inadvertently have provided more options to suit neurodivergent students.

"There was a practical aspect to schooling in the early 20th century," says Katie.
"Lessons were designed specifically to develop real-life skills for their roles after they finished school … These included social studies lessons on the political system and voting, economics lessons on mortgages, interest rates and taxes, lessons on seed raising and animal rearing and, for girls, home craft lessons on laundry, needlework and how to decorate a home."

Karen adds: "In the industrial age, kids were working in shops or on farms. Just because we have reformed our education system, you can't expect our brains to have evolved that much."

She hopes we can eventually understand the underlying causes of neurodevelopmental differences. That may require a combination of neuroimaging research, genetic research and life-course data from multiple national longitudinal studies including the country's largest, Growing Up in New Zealand (GUiNZ), which Karen has worked on since its inception.

Using its data, Karen is also researching the predictors of child depression, funded by the Royal Society Te Āparangi.

"Our research has found there's an increased likelihood that neurodiverse kids will develop a mental health concern."

Early assessment is important because intervention is key to warding off anxiety and depression. The ministry has a free early intervention service for families of young children with learning support needs.

"It's also important that teachers have a good knowledge of dyslexia as well as ADHD, ASD and dyscalculia," says Karen.

In the end, she says an education system that fails to understand these children doesn't give neurodivergent learners a fighting chance to be their best. "It fails to acknowledge that neurodiversity is good," she says. "It's what keeps our species so successful."
Students may be putting in a lot of effort, but not getting results. They can talk to us about what might be going on and see how we can help.
Jude knows the challenges teachers face teaching different styles of learners, having been a primary school teacher prior to her academic career.
"One of the biggest resources that teachers need, that they don't have, is time. They need non-contact time to collaborate and share information ... to learn from other educators, specialists and the child's family."

Big class sizes are also an issue – bad for teachers as well as children.
"Under the UN Convention on the Rights of Persons with Disabilities, we have obligations to shift money from segregated settings into the development of inclusive school communities. I'm not sure we're doing that very well."

Since 1989, New Zealand's school system has been 'mainstreaming' students.

"With mainstreaming, we'd see disabled kids in our communities head off to the local school," says Jude.
"But there was a lot of 'You can come to our school now, but don't expect us to change to accommodate you.'"

Special Education 2000 arrived in 1995 and began funding resources for children with learning, communication and behavioural needs. In 2002, Special Education Services was set up, integrated into the ministry.

Jude says there is a raft of Ministry of Education policies supporting inclusive education, and the Education and Training Act 2020 outlines teachers' obligations.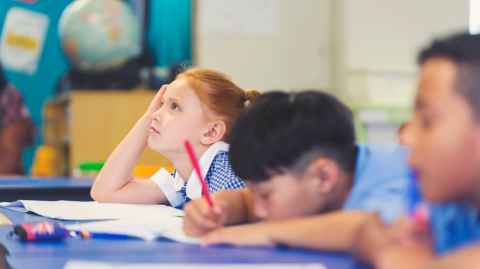 How do we make everywhere, from our early childhood centres to university, good places for every student?
With the New Zealand Curriculum Refresh under way, there are opportunities for improvement.

"One of the foundation principles of that is inclusion," says Jude, who adds that many schools are already doing a good job.

"But we need to ensure the curriculum is written for every single student."

EDSW offers postgraduate study in inclusive education specialisation and, at undergraduate level, teachers are being equipped with learning to reflect the neurodiversity paradigm.

Jude says a critical starting point is that education should be accessible to everybody.

"How do we make everywhere, from our early childhood centres to university, good places for every student?

"Do we believe in the open-ended potential of every child to learn? It's about designing teaching experiences, and looking to remove potential barriers, so every child in our classroom feels good about themselves.

"Nothing should prevent anyone from engaging in education. It's a human right."
At the University of Auckland, advisers in Inclusive Learning, including  Jodie Peterson and Glenis Wong-Toi, work with neurodivergent students during their tertiary study.

"Students may have a diagnosis of autism, ADHD, dyslexia, or even a temporary neurodivergence," says Jodie. "We may see traumatic brain injuries, chronic fatigue or other conditions that affect attention and focus. Our purpose is to support students to be academically successful and to maintain their well-being.

"Students who have a diagnosis and can produce documentation have access to a full suite of support. That includes special conditions and access to protected spaces, groups and workshops. Students on the pathway to diagnosis can receive one-on-one support and access to online resources we've created."

Glenis says students can contact the Inclusive Learning advisers any time during their degree.

"They may have had comments or feedback about their work or assignments," she says. "Or they may be putting in a lot of effort, but not getting results. They can talk to us about what might be going on and see how we can help."

The Inclusive Learning team has also developed a pilot for secondary schools to support students' transition to university life.

Jodie says if there's one piece of advice she would give to university educators, it would be to create a learning environment that is open and inclusive for neurodivergent students.

"Are you using language that makes neurodiverse people feel safe? Would they feel okay coming to you and saying 'I'm having difficulties'? The first step is to create trust and a perception among your students that they could contact you if needed."

She suggests telling the class, "If you experience learning in a different way, or absorb information in a different way to how I'm teaching and you'd like to discuss that, I'm really open and flexible. And, if you would like additional support, please come and see me."
The first step is to create trust and a perception among your students that they could contact you if needed.
Thinking about value
Educators and teachers are often at the forefront of change in society.

"But we live in a society that's ableist and consistently engages in 'deficit theories' around disability," says Jude. "Teachers need to think about their values and how they behave when they know a person may be neurodivergent."

She and close colleague Missy Morton, Professor of Disability Studies and Inclusive Education, use the word 'disability' precisely.

"We draw on disability studies as a disciplinary field," says Jude. "It informs our teaching and research. That means using the social model of disability ... it firmly establishes disability as a consequence of living in a society that isn't designed with every person in mind.

"You 'experience disability', for example, if you attend an early childhood centre or school that's designed with a socially constructed idea of 'normal' in mind as the preferred way to be."

She says in taking this approach, the term 'disabled children' emphasises two things.

"One is the idea of children being disabled by the context in which they live and learn … a society not designed for all.

"The second comes from an international disabled people's movement.

Disability has been adopted by some groups as a label of pride and recognition.They're saying, 'Yes, I am a disabled person and I proudly own that; it's a positive part of my identity.'"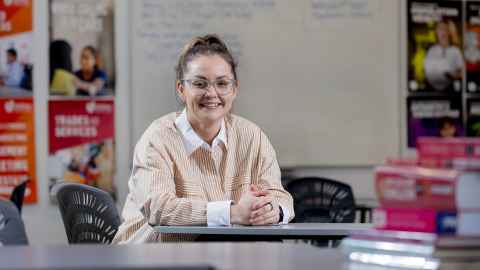 You're imagining what your supervisors are thinking and worrying you're going to disappoint someone. But Jodie firmly told me, 'You are freaking out, but to them it's just Thursday.'
Jules Skelling's story
During high school, Jules Skelling was stood down five times in two years.
In Year 13, her attendance was just 30 percent. Dealing with severe ADHD, Jules was labelled unteachable, yet she excelled academically through self-guided learning at home. This was preferable to being confined to the 'adjustment room', a windowless segregated space, or working in the accelerated class referred to by peers as the 'freaky class'.

Jules reflects on the language used then, highlighting that the 'adjustment room' concept, intended to modify behaviour, would be considered illegal nowadays.

Despite her challenges, Jules qualified for university and now, as well as working on her PhD in education, she teaches at an Auckland secondary school, including learner support.

Jules acknowledges that some people with ADHD claim the term 'disability' as part of their identity but she doesn't. She also grapples with the concept of advocacy on her behalf, asserting her ability to speak for herself. Her experience has involved marginalisation and dealing with ableist attitudes.

Jules' university education unveiled the pivotal role of Inclusive Learning advisers like Jodie Peterson. Although Jules excelled at undergraduate level, she encountered difficulties while trying to write her masters thesis after completing data collection because of the lack of structure.
"I lost my way. I disappeared. My emails piled up. I had multiple drafts sitting there I couldn't send. I didn't know how to share what I was experiencing, so communication with my supervisor stopped."

Until that point, Jules hadn't disclosed her unique thinking process to her supervisors. And though not particularly fond of the term 'neurodivergent', she recognised the need to become more open and 'supervisable'. After six months, she contacted the Inclusive Learning team for help. Jodie became a valuable support, providing bullet-point emails and summaries of their discussions. This method helped Jules' busy mind focus.

Jules embraces the way her mind works and how she learns new skills quickly.

"If I didn't have ADHD, my life wouldn't be as full. I wouldn't do half the things I do if I wasn't impulsive."

But during the stressful thesis period, a piece of advice from Jodie resonated.

"Jodie said, 'You're imagining what your supervisors are thinking and worrying you're going to disappoint someone. She firmly told me, 'You are freaking out, but to them it's just Thursday'."

Jules says this liberated her from paralysis induced by fear of disappointing others, and still has the advice written down.

These days, she draws on her personal experiences to connect with her students.

"No one knows what's happening in your head with these 'invisible disabilities' as people might call them. But I know what it feels like to get a sense you don't quite fit in."
Story by Denise Montgomery
This feature appears in the Spring 2023 edition of Ingenio magazine.