Sinkholes, cyclones and seismic activity: how can we build resilience?
Feature: Floods, quakes and cyclones expose the fragility of New Zealand's essential services, housing and transport systems. Owen Poland talks to University of Auckland researchers about how we can build resilience.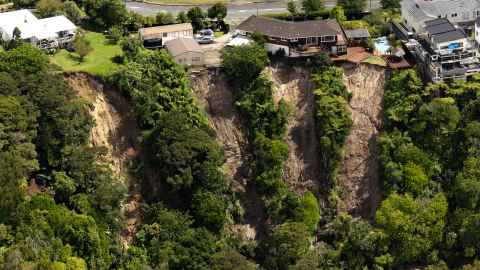 In this feature story for Ingenio magazine, Waipapa Taumata Rau academics discuss their transdisciplinary research into improving New Zealand's infrastructure, buildings and housing.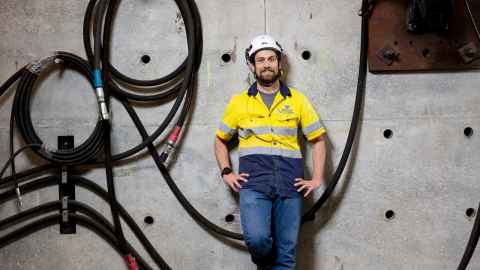 To remind Auckland of the fragility of its infrastructure, three sinkholes recently appeared in three months. The first, on Ponsonby's College Hill, was caused by a damaged stormwater pipe due for replacement. When more rain came, the road gave way. Then a second appeared in Ōtāhuhu. And, in September, a 13-metre deep sinkhole suddenly appeared in Parnell, sending raw sewage into Waitematā Harbour. Failing infrastructure reveals itself in unexpected ways.

While sinkholes are mild inconveniences compared with the impact of Cyclone Gabrielle and the Auckland Anniversary weekend floods, they highlight the need to urgently improve the resilience of New Zealand's infrastructure.

So, while political parties have been announcing plans to fix potholes, and build new roads, bridges and tunnels as election selling points, the University of Auckland is undertaking wide-ranging research into the resilience of our built environment to protect it against everything from flooding to earthquakes.

Professor Liam Wotherspoon, from Civil and Environmental Engineering at the University, is involved in research looking at the resilience of infrastructure networks as part of the Resilience to Nature's Challenges National Science Challenge (resiliencechallenge.nz).

He says the sinkhole situation is complex.

"There could be different factors leading to the development of sinkholes like these. The pipes could be damaged by external factors, such as loading or movement of the surrounding ground. These pipes can also deteriorate over time and develop leaks, which allows water to enter and weakens the structure of the surrounding soil. That can ultimately create voids not able to support the ground above the pipe, leading to a collapse and a sinkhole."

He says to inspect every centimetre of pipe would be a massive operation. At any rate, the situation can change quickly.

"Pipe networks are regularly inspected by cameras moving through and looking for any signs of damage or deterioration. With thousands of kilometres of pipes to inspect, this is done in cycles across the networks. Where issues are found, action can be taken to remediate or replace the pipes.

"However, if the conditions change rapidly between the inspections, such as after intense rainfall, then damage and deterioration can accelerate. That means sinkholes can develop in areas where they were not expected, based on what inspection data had shown."

He says increased water levels underground after Auckland's sodden summer and wet winter mean sinkholes are always a risk.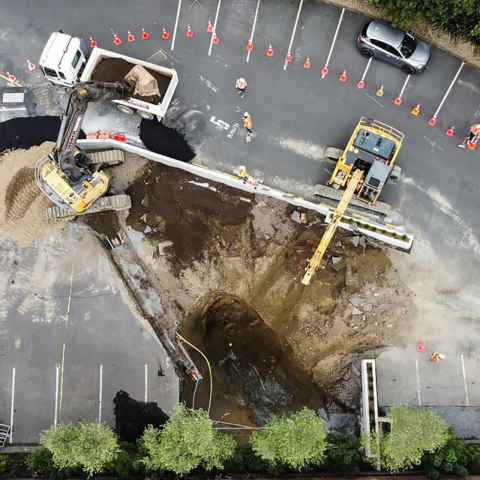 If there's a risk to people, we want to make sure that we provide solutions that we know are going to work.
Then there are faultlines
Lessons learned from the damage inflicted in the 2011 Canterbury earthquakes have permeated the country's building sector.

Faculty of Engineering senior lecturer Dr Lucas Hogan has been at the forefront of informing changes to building practices and codes. As the winner of EQC's 2023 Ivan Skinner Award, recognising excellence in earthquake engineering research, US-born Lucas chose the University of Auckland for his postgraduate studies "because there are only a few places in the world that do good earthquake engineering work".

Part of his research focuses on the resilience of bridges, and piers from the now demolished Whirokino Viaduct in the lower North Island are being tested to assess how a significant portion of New Zealand's bridge network would perform in a quake.

"That's useful for working with [New Zealand Transport Agency] Waka Kotahi," says Lucas.

However, his research into the performance of pre-cast concrete panels and floors has had the greatest impact. By testing full-scale floors, Lucas and his research team gained a better understanding of the often-complex behaviour between the floors and the rest of the structure during an earthquake.

"I'm trying to understand the vulnerabilities in this construction type because of how ubiquitous this construction style is, but a lot of the detail has not been thought through."

Describing New Zealand's building code as "effectively just a big list of things not to do", Lucas is gratified that his work has led to an update of both the New Zealand and US seismic assessment guidelines.

"You feel so much better that your work is actually getting used and making a difference."

The aim is to increase resilience in the built environment by ensuring that structures damaged by quakes can be rebuilt faster.

"If there's a risk to people, we want to make sure that we provide solutions that we know are going to work."
These collaborations have leveraged international R&D funding and ensure that the research is applicable in real-life engineering.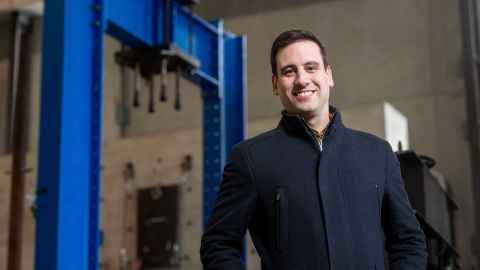 Wrapped with carbon
Dr Enrique del Rey Castillo is another engineer dedicated to saving lives and preserving buildings. As part of his masters research, he explored Lisbon's unique 19th-century 'Gaioleiro' buildings, which were constructed with unreinforced masonry.

"I focused on how to assess heritage buildings, to make them stronger against earthquakes. I've continued looking at that because, by coincidence, those buildings and our buildings in New Zealand have the same problem – their floors cannot transfer tension forces.

"It's completely by chance because the two structural methods are separated by 200 years and thousands of kilometres, and don't even use the same materials – it's concrete versus bricks."

Much of Enrique's work has involved the use of Fibre Reinforced Polymers (FRP) to strengthen high-rise buildings, such as wrapping carbon fibre around weak spots in concrete columns and walls.

"Concrete is very strong in compression and the carbon fibres are very strong in tension, so that works well," he says.

Funded by EQC, Enrique and his team experimented with 56 different combinations of concrete, steel and carbon fibres to determine how and when they would fail. The deformation test results were much better than expected.

"The requirement by the building code is 2.5 percent lateral deformation, and we went to two times the requirement without failure."

Discovering a cost-effective solution with immediate application was a major plus.

"This solution can be used in a design office one day and implemented on a construction site a week later," says Enrique. "It can be used for a lot of things. It depends on the engineers' capabilities, skills and inventiveness."

Among the buildings given a new lease of life through the use of FRP is the Category One Old Arts Building on the City Campus, the large stone-clad building alongside the University's ClockTower.

Enrique is now using a $1 million MBIE Smart Ideas grant to investigate the more challenging issue of strengthening floors.

"Most buildings in Wellington older than 35 years are going to have this problem. Many people died in Christchurch partially because of buildings' poor floor connections, and there is no strengthening guidance for engineers."

The research extends to collaborating with other universities, including Virginia Tech in the US, and with global companies including BBR Contech, Concrete Solutions and Simpson Strong-Tie – a subsidiary of the Nasdaq-listed Simpson Manufacturing Company.

"These collaborations have leveraged international R&D funding and ensure that the research is applicable in real-life engineering."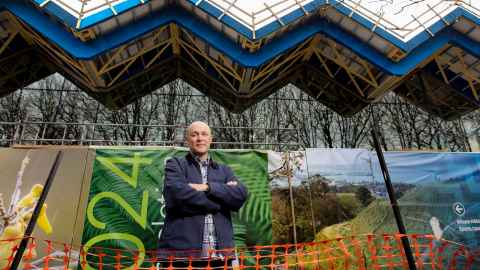 The more social capital you have, the more resilient you will be and the better placed you will be to cope with any disaster.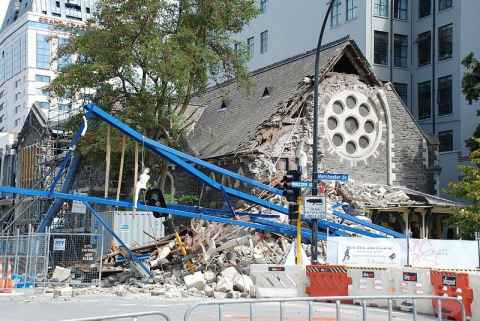 Social infrastructure
The Canterbury earthquake, in which 185 died, is still being studied by academics in fields outside engineering, including sociologist Professor Steve Matthewman. He says while the reconstruction phase is important, social infrastructure is probably more important in terms of recovery and resilience.

"The more social capital you have, the more resilient you will be and the better placed you will be to cope with any disaster."

Steve says that the Christchurch rebuild was a missed opportunity in terms of wholesale urban renewal, but some real positives have emerged, including the new Margaret Mahy playground and the public library Tūranga.

"They encourage social mixing of diverse people and hopefully build some level of understanding or tolerance towards others."

'Transitional urbanism' was another feature of the Christchurch recovery. Community groups like Gap Filler, Life in Vacant Spaces and Greening the Rubble created open-air cinemas, built temporary stadiums to watch buildings being demolished and conducted guerrilla gardening on piles of rubble.

"It gets you out of the house," says Steve. "It gets you into nature and connected with others."

Consultation with the community is another critical element. "Part of being resilient is about having good mental health, good connections with your community and feeling you've been heard and listened to."

He says the role of Ngāi Tahu in helping transform the city from one of the most English of colonial settlements into a more recognisably Māori place than central Auckland has been remarkable. "It's the first time ever that a local Indigenous group has been an official party to recovery anywhere in the world following a major disaster. It's massive."

Supported by an $870,000 Marsden grant, Steve is now collaborating with researchers from Lincoln and Canterbury universities to investigate the managed retreat from the city's 600-hectare residential red zone, which is amongst the largest in the world.

"Ōtautahi Christchurch is a really interesting laboratory for an urbanising planet facing these unprecedented environmental pressures, including sea level rise."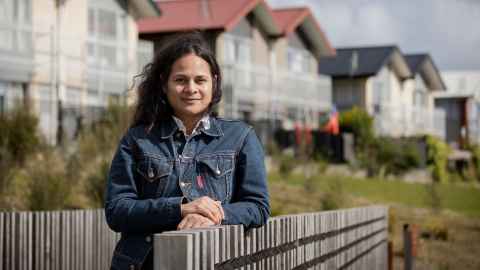 You can create intensification, but that's not the same as creating community.
No straightforward answers
Protecting the nation's infrastructure from the ravages of extreme weather events and earthquakes is on the mind of Dr Conrad Zorn, a senior lecturer at the Department of Civil and Environmental Engineering.
"Our research is about how we can design robust assets more cost effectively."

New Zealand's location atop volcanic fields, with lots of low-lying land exposed to sea swells and tsunami, makes it a challenging environment. The country's position at the juncture of the Pacific and Australian tectonic plates means it's a geologically dynamic region affected by earthquakes, volcanic activity and other geological hazards.

One project, 'Protecting Aotearoa New Zealand's infrastructure from future damage and disruption', is funded by a three-year grant from the Warwick and Judy Smith Engineering Endowment Fund, created after a generous $11.1 million bequest from the Smiths in 2017.

Much of Conrad's research collaborates with other universities and crown research institutes through client-side driven research consortia including the MBIE-funded Resilience to Nature's Challenges, which aims to accelerate natural hazard resilience.

"When we're trying to make New Zealand's built environment more resilient, it's important we're on the same path," he says. "And that, as a taxpayer, you're getting far better value for money because there's not duplicate research."

Under Conrad's supervision, research fellow Dr Amelia Lin is investigating seismic exposure and impact across New Zealand infrastructure networks using data from the Kaikōura earthquake to model the potential consequences.

"We can model a different earthquake, let's say an Alpine Fault earthquake or Wellington Fault earthquake, and predict where it's more likely a road blockage could occur," says Amelia.

The impact of recent rain-triggered landslides is also being examined to calibrate and validate existing models. Conrad says, "Cyclone Gabrielle will be studied for years to come."

The aim of the research is to be impactful and useful, but he says there's no straightforward answer on how to make the country more resilient because "there's much more to a resilient society than building the world's strongest bridge".

But becoming resilient doesn't just apply to the buildings and structures we visit, owned by the Crown, business, retail or universities. Housing resilience is critical for society. The University of Auckland's Māori and Pacific Housing Research Centre (MĀPIHI), one of seven flagship research centres that were launched in 2022, is committed to improving the quality and supply of housing for Māori and Pacific communities.

That starts with impactful research.

"We're invested in ways that our communities can tangibly engage and feel the material outcome," says co-director Dr Karamia Müller.

Although in its startup phase, MĀPIHI has initiated a priority research cluster called 'Where to live to thrive' that is focused on mitigating climate change and natural disaster risks.

"Our communities know how to survive, but it's time for them to thrive and to have housing that enables thriving," says Karamia.

There's excitement about the opportunity for wider university collaboration that will lead to deeper and more enduring research projects.

"It starts to build the research platform for the types of graduates needed for confronting some of these upcoming challenges."

Rather than being typically deficit-based, the research is values-based, to reflect Māori and Pacific strengths and principles.

"It's important that you're researching to ensure that people feel good, and to uplift their mana," says Karamia.

Initial consultation with stakeholders has produced more than 100 priority kaupapa (principles) for investigation, ranging from prevention of rheumatic heart disease to notions of place and whenua.

"We know you can build houses, but that's not the same as building a home. You can create intensification, but that's not the same as creating community," says Karamia.

She says Māori and Pacific people faced a housing crisis long before there was a housing crisis for the whole country, and that housing security is a key issue.

"It can be the circuit breaker for intergenerational poverty, and this is something that's top of mind for Māori and Pacific communities. How do we meaningfully address those cycles?"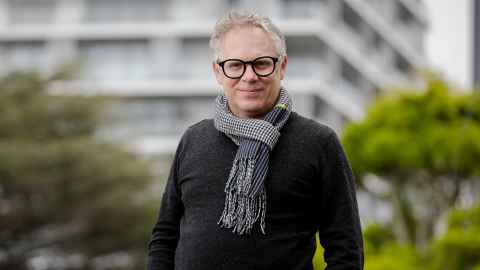 Builders are using foams and glues to fix parts together, and these can't be recycled or reused after their lifetime because they can't be sorted separately.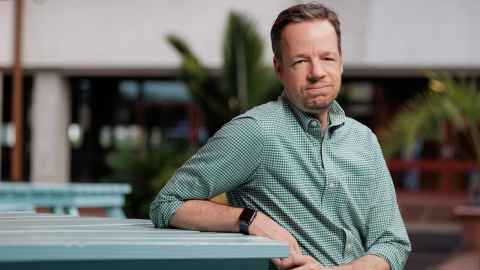 Sustainability and well-being
Dr Tim Welch, co-director of the University of Auckland's Future Cities Research Hub, belongs to a transdisciplinary group of researchers trying to find innovative solutions that enhance sustainability and resilience – including in health and well-being.

"How do we contain our urban growth and make that growth the healthiest and best it can be?" asks Tim, whose focus is infrastructure and mobility. "How do we move people around cities and keep our urban systems functioning or working better?"

One project, funded by Waka Kotahi, is the creation of a micro-mobility hub at Auckland's Glen Eden rail station. E-bike and e-scooter rentals will be offered to typically car-centric commuters. It's a small thing compared to finding a healthy home, but is part of the wider focus to improve liveability in a city and reduce carbon emissions by "moving travel behaviour towards more sustainable modes of transport".

In conjunction with Google Street View maps, Tim is also cataloguing Auckland's more than 6,000 bus stops to determine the availability of benches and shelters to evaluate how they might affect bus patronage.

For Tim, the Auckland Anniversary floods and Cyclone Gabrielle highlighted the city's reliance on "very old infrastructure", which includes around 90,000 drain basins whose capacity over time has significantly diminished.

Rather than embark on an expensive modernisation of stormwater systems, he says there are many less-expensive options such as 'daylighting' underground streams to bring them above ground and "letting nature handle our flood waters".

One example would be to excavate and restore the Tunamau Stream, which once flowed from Ponsonby through Freeman's Bay and into the Waitematā Harbour. It runs through a pipe that periodically floods Western Park during periods of high rainfall.

Ultimately, he says, it's about making the city more sustainable and resilient.

"We need to get people out of cars, moving around the city on trains or bikes and have cool urban spaces where water is managed and everything's not paved over."

Dr Ferdinand Oswald is another member of the Future Cities Research Hub. He is an architect whose research on sustainability in the built environment has been heavily influenced by his father's role as an urban planner at Germany's Heidelberg City Council.

Having won a prized Green Building Award in 2011 for the design of Germany's largest passive house project, Ferdinand decided there had to be a better way to design houses, that doesn't involve gluing expanded polystyrene onto facades, which prevents recycling.

"More builders are using foams and glues to fix parts together, and these can't be recycled or reused after their lifetime because they can't be sorted separately."

Among several waste-minimisation projects he's involved with is an update of a life-cycle assessment tool using precise waste data. This makes it easier for planners and architects to estimate – and be more aware of – the effect of building materials on the environment.
He emphasises the importance of considering waste minimisation during the construction phase as well as at the end of a building's life.

"We need to consider the whole life cycle of a building," he says.

In some countries, the proportion of construction and demolition waste sent to landfills can reach up to 61 percent of the total waste.

Ferdinand says the best approach is to reuse building materials from deconstructed buildings to construct new ones.

Another project involves developing gradient concrete, which functions in a similar way to human bones.

"You can reduce the density in the middle, but at the edges you need more density because there's more load."

As well as being 50-60 percent lighter, the production of concrete gradient panels results in a 45-60 percent reduction in carbon emissions compared with traditional concrete. Auckland iwi are also being consulted about the potential use of traditional cement ingredients such as pumice. "That's really exciting," Ferdinand says.

Meanwhile, Tim is keen to reduce concrete production in other ways, certainly on the streets. He says to have fewer pavements and concrete driveways, and to develop floodable parks, could create a 'sponge city'.

"It's a thousand little projects that add up to a huge boost to our resilience," says Tim.

"These really don't cost that much."
This article was the cover story for the Spring 2023 Ingenio magazine.