Our health, wellbeing and fitness team are available to facilitate active wellbeing opportunities for you, your team or student events.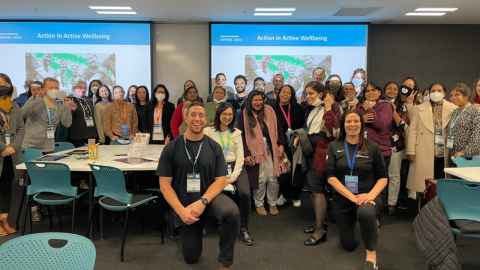 Whether you're looking to incorporate active wellbeing into your next team-building event or workshop, want to explore the option of an ongoing programme for your department, organising an event for students, or you want to get fit and healthy – we're here to help! 
What we offer
The below outlines our key services available. 
Group Actively Well support
Options available for staff teams or as a session for a group of your students.
Webinars, seminars or workshops based on a topic of your choice. Options include: nutrition, how to get started, how to fit exercise into your busy schedule, rest and recovery and more. Available in-person or online. 
One-off or a series of group fitness classes/boot camps. These can be held in the Recreation Centre or at a location of your choice. Choose from our current group fitness offerings.
Premium programme specifically tailored to your group. Choose from reformer pilates, strength camp, self defence and more.
Marine sports sessions. Choose from waka ama, sailing and stand-up paddle boarding.
Discounted in-person Recreation Centre membership or online membership for you and your team.
Individual Actively Well support
Free introductory gym membership.
Premium programmes such as reformer pilates, strength camp, self defence and more.
Personalised programme, fitness consultation, Fit3D body scans and fitness testing.
Marine sports sessions. Choose from waka ama, sailing and stand-up paddle boarding.

If you have something specific in mind, or the above offerings don't quite capture your needs and requirements, don't hesitate to reach out to activewellbeing@auckland.ac.nz as we can create customised Actively Well support options.
Please note some staff Actively Well offerings come with a cost. Please fill out the form below to find out more and to get a quote. 
Note: If you book a group session for your students, you can apply on the form for funding to help support your student event. 

Give us a try first
We have a number opportunities for you to trial our services prior to registering.
Free gym trial.
Free online gym membership trial.
Premium programme trial. You can try reformer pilates, dance or boxfit for just $10.
To redeem any of our trials, please email activewellbeing@auckland.ac.nz 
Terms and conditions
For a single session (excluding online), a minimum $190 booking fee applies which includes instructor hire. All other options are subject to requirement with details confirmed following booking request. 
Booking requests must be at least 3 weeks prior to preferred date. 
Bookings are subject to the availability of our instructors so some flexibility in your request is preferred. The use of Recreation Centre instructors is mandatory. 
For booking requests delivered at the Recreation Centre, please note that the bookings are a collaborative effort with Sport and Recreation to ensure booking meets health and safety requirements and quality control expectations.  
Bookings must be compliant with Covid-19 guidelines.
A registration process applies to all bookings which is handled by the booking owner, the registration must include a waiver to acknowledge risks of participating in exercise. For bookings within Sport and Recreation facilities, registration details must be shared for contact tracing and facility evacuation requirements.  
The marketing and promotion of your bookings to generate participants is the responsibility of the booking owner. 
For bookings external to Sport and Recreation facilities, considerations must be made for travel/parking, logistics including equipment and audio.  
Payments made via journal, invoice or one-off payment via cc in our online store, these methods will be sent upon booking confirmation. 
For any cancellations, conditions vary between booking options and will be handled individually. A minimum 5 business day notice for full refund.