About the Interfaculty Sports Championship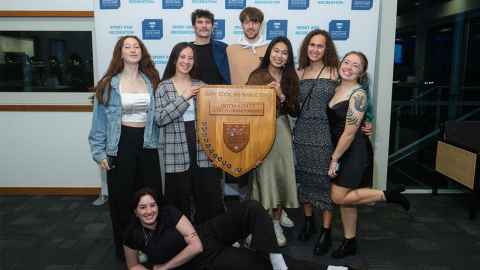 Faculties compete across 14 sports to win the Sir Colin Maiden Shield. Faculties are awarded points which equate to their ranking in each sport. The faculty with the best overall score at the end of the year is presented with the shield.
The competing faculties are:
Arts Alligators
Creative Arts and Industries Narwhals
Commerce Cougars
Education & Social Work Doggies
Engineering Eagles
Law Lions
Medical and Health Sciences Seabass
Property Pirates
Science Spartans
Faculties are awarded points which equate to the rankings within each tournament. At the end of the all competitions, the rankings across all sports are tallied. The faculty with the lowest score is declared overall winner and will home the Sir Colin Maiden Shield for the following year.
We want players of all skill levels
We have players with different skill levels. The teams that succeed are those that train hard and are passionate about the sport, not necessarily those with the most talented players. We have players who are national and regional representatives in their sport and some who are just re-living their high school days by getting back into a sport that they were passionate about.
Head along to your faculty team trainings and give it a go!
Move into management
Each team needs a manager. There are also opportunities to coach and volunteer. We need referees and officials. Contact your Faculty Sports Leader early on to put your name forward.
There's also always plenty of room for supporters, and someone has to be the mascot!
How to get involved
Clubs work closely with Sport and Rec to run the tournaments so if you're affiliated with a club, make sure you let the committee know you're available to help out! If you want to help out, you can:

Play for the faculty where you're enrolled
You must be a current enrolled student with the faculty you are representing. This means you can't play for a different faculty if your faculty team is full. This is strictly enforced with ID checks run on all registrations. 
Play for two faculties
If you're enrolled with two faculties, you can play for different faculties in different sports but you can't play for two faculties within the same sport.
You must be enrolled with each faculty (ID checks are done).
Foundation students welcome
If you're a Foundation student, can choose any faculty to play for although we suggest you choose the faculty you are most likely to be studying with in following years.
You may play for different faculties in different sports, but only in one team for each sport tournament.
Your commitment
Tournaments vary in length. To give you an idea of the commitment involved:
Ki o Rahi, Indoor Netball, Indoor Cricket, Touch, Ultimate Frisbee, Badminton, Rugby, Hockey and the Great Waka Ama Race are one-day events
Basketball is played over five weeks
Netball and volleyball are played over four weeks  
Futsal is played over three weeks
Teams may hold trials and have regular training sessions, but these vary depending on your faculty and sport.
Uniforms supplied
The majority of uniforms are provided by Sport and Recreation. There are full uniforms for Basketball, Netball and Rugby. 
Multisport playing tops are used for all the rest - you'll need your own black shorts.
All players need to provide their own socks and shoes/boots. 

Playing locations
Basketball, Netball, Futsal and Volleyball are held at the City Campus Recreation Centre
Touch, Ultimate and Rugby are played at Colin Maiden Park
Indoor Netball and Indoor Cricket are hosted by Action Indoor on Dominion Road
Badminton is held at Auckland Badminton on Gillies Avenue
Hockey is played at Auckland Grammar School
Ki o Rahi is played at the University's Epsom Campus
And the winners are...
The winning faculty of the Interfaculty Sports Championship is awarded the Sir Colin Maiden Shield at the end of year Sports Awards.
At each tournament there are team prizes for 1st, 2nd and 3rd place, the Plate and a Sportsmanship award. Winners and runners-up receive gold and silver medals, and there are Most Valuable Player (MVP) awards for individuals at each tournament.
Keep in touch
We upload all our photos to Facebook and Instagram. Follow so you can keep up-to-date: