2019 Badminton Tournament information
Time: 9am - 6pm
Date: Saturday 18 May, 2019
Venue: Auckland Badminton, Gilles Ave, Auckland.
Team: Male and Female Mixed, up to 8 per team
Format: Men's Singles, Women's Singles, Men's Doubles, Women's Doubles, Mixed Doubles
Cost: Free
Uniform: IFC playing tops (provided) and you provide your own black shorts
Registrations for the 2019 tournament have now closed. Head to the Championship Schedule to check out the upcoming interfaculty sports tournaments.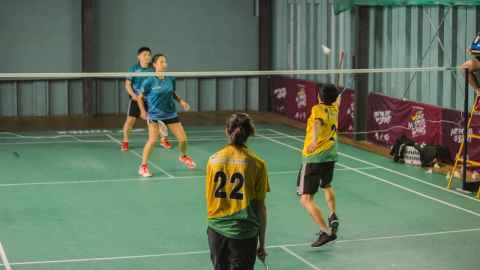 2019 IFC Badminton results
1st FMHS Seabass
2nd Science Spartans
3rd Engineering Eagles
4th CAI Narwals
5th Law Lions
6th Commerce
7th Property / Arts
8th EDSW Doggies
History
Previous IFC Badminton winners
2018 Science Spartans
2017 Science Spartans
2016 Commerce Cougars
2015 Commerce Cougars
2014 Commerce Cougars
2013 Commerce Cougars
2012 Engineering Eagles
Resources