We offer you safe, proven, and effective therapies to help you improve and manage your mental health.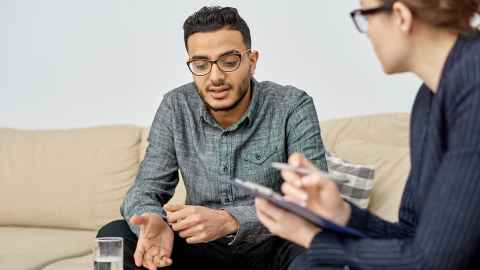 Clients come to us once a week for an hour-long therapy session for 12 weeks during university semesters, in March, April, May, July, August, September and October. We can sometimes arrange appointments outside our normal working hours.
If you need urgent assistance outside these times, contact your GP or see the helpful links below: 
What happens at the clinic?
We provide a friendly and warm environment because we understand that coming to therapy, especially for the first time, can be daunting.
Before coming to the clinic we organise a telephone conversation with you and our clinic director, Dr Nigel George, to find out more about you and how we may be able to help. For your first appointment, Nigel will meet you and introduce you to a student clinical psychologist assigned to work with you. The student will be in the second year of a doctorate degree in Clinical Psychology. That means he or she is typically a little over one year away from becoming a registered clinical psychologist.
Your therapy sessions will take place in one of our consulting rooms. Throughout the session, a highly experienced, registered clinical psychologist will observe from an adjoining 'viewing room' via a one-way mirror. You are welcome to look around the 'viewing room' and discuss how our supervision system works.
We record therapy sessions on DVDs so that the clinical supervisors and the student can review the session afterwards. These DVDs are treated with the same confidentiality as clients' written records. They are always kept secure. Only our clinic's team ever sees them.
Reviewing a recorded therapy session enhances the student clinical psychologist's learning, and ensures our clients get the best type of therapy to meet their individual needs.
After every therapy session we will ask for your feedback, so we can find out how you feel about the session and your progress.Client confidentiality is of the utmost importance to us.
All clients' records (written and recorded) are stored in line with best practice guidelines
Cost
We negotiate fees with our clients. Our fees are reasonable and less than you would pay to see a private practising clinical psychologist.
How to begin?
Please phone us. We look forward to talking to you about your options. We also receive referrals from the Auckland District Health Boards' community mental health services, GP's and other health professionals.