We help people of all ages with communication, eating, drinking, and swallowing difficulties.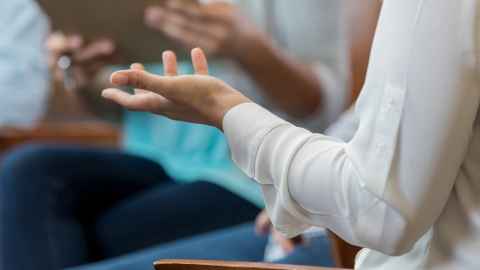 A first visit takes about 45-60 minutes. Each follow-up visit takes about 45 minutes. We often ask our clients to commit to seeing us once a week for six to twelve weeks. It takes time and commitment on everyone's part for clients and students to make progress.
What happens at the clinic?
You will meet with our Master of Speech-language Therapy students who are gaining the practical experience they need to qualify as speech-language therapists.
Often, a clinical supervisor will also be with you in the room.  Otherwise, a clinical supervisor observes the session from an adjoining 'viewing room' through a discreet one-way mirror.  The clinical supervisor can come into the consultation room if needed.
We record our student-client therapy sessions. That way, the clinical supervisor and the student can review the session afterwards. The recordings are confidential and always stored securely. We will discuss this with you and ask for written permission before recording starts.  Sometimes, we may need to contact other professionals involved in your care, such as teachers or doctors. We will always get your consent first.
Listening and Language Clinic (for children)
While the Speech-language Therapy Clinic caters to adults, the Listening and Language Clinic is for children with speech and language disorders and delays, and is a paid service.
Children are seen by a senior speech-language therapy tutor who is also a certified auditory verbal therapist.
How long do appointments take?
Initial assessments are two appointments up to one hour duration each time usually within a week of each other and cost $345 including GST.
Follow-up appointments take up to one hour, and can be required for anytime upto six weeks, to two years and cost $115 including GST.
The clinic runs between  9am-3pm, Monday to Thursday most of the year.
How to begin?
Please go to our Contact us page. We look forward to hearing from you. 
Our clinics' services don't meet everyone's needs. We're unable to visit clients outside our clinics. But there is support available in your community. Please contact your GP or see the helpful links below: