You can submit your Campus Card photo online.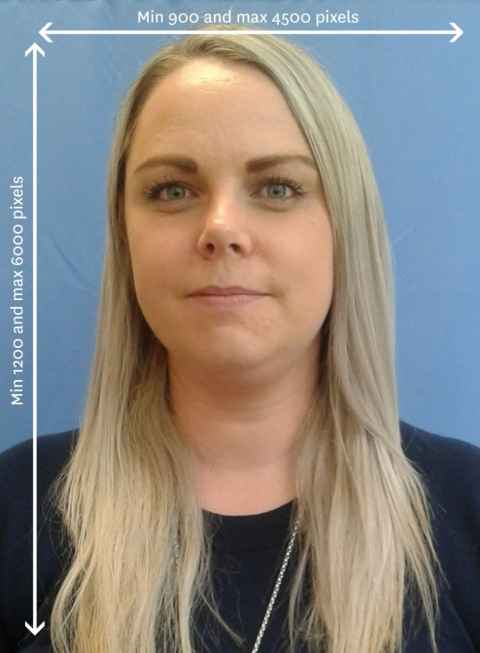 Don't upload a copy of any other type of document, i.e. a copy of a passport or birth certificate, as this won't be accepted. As of Friday 8 September 2017, the University no longer accepts hardcopy ID photo submissions.
The ideal photo is a high resolution digital photo like the one above.
Your photo must meet standard photo requirements including size and dimensions, and must be in either a jpg or jpeg file format. If your photo doesn't meet requirements, it won't be accepted and you will be required to submit a new one.
This photo meets all the Campus Card photo requirements:
unedited image
plain background
whole face clearly visible
no shadows
crisp, in-focus image
face in the centre of the frame
eyes clearly visible looking straight at the camera
no more than two years old
Specific guidelines
Quality
Full colour
A true image and not altered in any way
Clear, sharp and in-focus with minimum reflective light on face.
No red-eye, no reflected light or shadows on the face
Pose
Head straight to the camera and centred with a clear gap around the sides and top of head, including hair
Maintain a neutral expression and ensure you have no hair across your face or eyes, as both must be clearly visible.
Background
A plain, light coloured background
Strong contrast between image and background.
Glasses may be worn but the eyes must be clearly showing through glasses with no reflection. No sunglasses may be worn. Tinted prescription glasses may be worn provided the eyes are still visible. Without hats, head coverings, or head bands, unless for religious or medical purposes.
Specifications
File format: Jpg or Jpeg.
File size: Greater than 500kb and less than 10MB.
Dimensions: Minimum 900 pixels wide x 1200 pixels high -- maximum 4500 pixels wide x 6000 pixels high.
Photo is no more than two years old.
If you are located in New Zealand, you can have an ID photo taken at a NZ Post Shop and they will email you a copy of that photo. These are standard ID photos and will normally meet the University's requirements.
Taking your own photo
If you decide to take the photo yourself, we request that you:
Use a digital camera.
Have someone else take the photo for you so that the photo is straight to the camera.
Check that the image meets the University's Campus Card photo requirements before you send the photo to us.
Where possible do not send in a photo taken using a web camera. The resolution and angles normally do not meet requirements. Most either have shadows or glare from unsuitable lighting and the face is angled down.
Please do not scan a hard copy photo and then email it to us. These are usually too grainy to use as the image quality will have degraded.