Audrey is preparing to start a graduate role in procurement after gaining confidence and employability skills with CDES.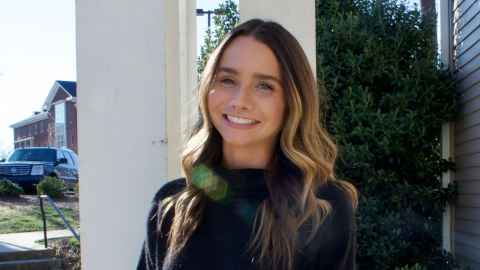 I am a third-year student from Virginia, USA studying Economics and International Policy (BA).
I chose to study Economics and International Policy because I have always been interested in economics and government. Additionally, I knew that studying outside of the US would give me a unique perspective on the world economy and how different policies translate across borders. When applying for this degree, I intended to continue on to study law back in the United States.
Over the years I have found that my passions within economics have focused on international trade and finance. I have had several amazing professors who have really challenged me to explore all areas of the degree. I am thankful for the support and guidance of such dedicated professors, because it has changed my post-grad perspective as well. Upon completing my degree at Auckland, I will stay in New Zealand to take on a graduate role in procurement. This is a pathway I had not known about until recently, but it energises me and I look forward to jumping in to the workforce.
I originally heard about CDES through email. I first sought help from CDES as a second-year student, seeking advice in how to best search for graduate roles and perfecting my "New Zealand-style" CV. Since my initial meeting via Zoom, I have been a frequent visitor and attendee of CDES events. 
I have found that as an international student, CDES has been one of the best
resources on campus.
The first meeting I had at CDES was with Liudmyla. I booked an appointment for advice on my CV and how to best break into the job market as an international student. That meeting was hands-down the best decision I made when I arrive in NZ. Through that meeting I was able to join the Workplace Insights Programme and was recommended to apply to be an International Student Ambassador. I have attended several career-ready workshops and intend to continue to take advantage of the programmes put on by CDES through graduation and beyond.
The help from CDES has really made me a lot more confident in myself and my abilities to network and seek opportunities. I have built up a wide array of tips, tricks, and tools from CDES which carry over into multiple aspects of my life. I have met many alumni in the field of economics, and I have a solid understanding of what it means to be successful as a graduate.
I am currently in my final semester of studies, preparing to start a graduate role with Augment Resources in procurement.
The process for applying to this role would have been daunting 6 months ago, but with the help I have received at CDES I felt it was somewhat easy. I had a series of 3 interviews, one of which was a case study presentation. I was more than prepared to give a professional presentation on data I have collected as a result of my studies in economics, and I felt equally confident in my interviewing skills because of meetings with CDES.
If it were not for my initial 30-minute meeting at CDES, I would not have opened so many doors for myself in Auckland. I cannot emphasise enough how much a short conversation can do for you professionally and personally. If you are feeling lost or are dreading the post-graduation stress of finding a job, a visit to CDES will not only put you at ease, it will give you all of the tools and confidence you need to crush your interviews and place you right where you need to be.