Resources to help support students on and around campus
From parking to designated study spaces, Student Disability Services is here to support you.
Designated study space and resource rooms
Facilities may include:
Height adjustable desks
CCTVs
Networked computers
Printers
Rest room facilities
Please note, these spaces are in high demand and access is based on need.
Mobility scooters
Students are encouraged to organise appropriate mobility assistance and aids before they come on to campus. We have a limited number of mobility scooters on the City and Epsom campuses for short-term loan.

The University works to ensure that all of our campuses are accessible for people with impairments. 
 
Accessible parking
There are a limited number of mobility parking spaces available across the University's campuses for students with impairments. You will need to have a CCS Mobility Card which you can get from your doctor. You will also have to pay for car parking (at a reduced cost per semester).

There is also a provision for public disability parking. 
Dogs or other animals on campus
Pet animals are not allowed on University premises, as specified by the campus rules.
Certified disability assist dogs are the only animals allowed on campus. Please contact one of our team for further information.

Accommodation
Some of our residences have accommodation for students with disabilities.
Faculty Disability Liaisons
Each faculty has a Disability Liaison person to assist you with enquiries. 
Meet Lucy Happe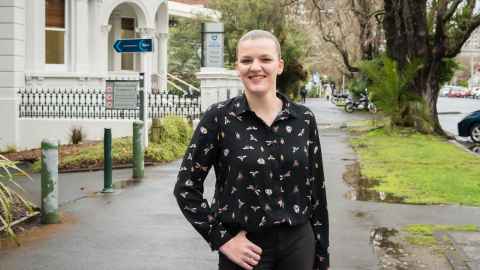 Chronic pain meant Lucy needed flexible support. Student Disability Services changed her life. Meet Lucy Happe.