Postgraduate study in Environmental Management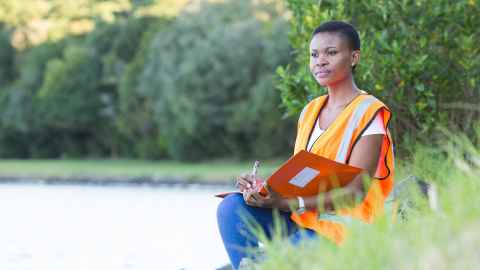 What can you study in Environmental Management?
The Environmental Management specialisation explores the knowledge, tools and methods that can be used to solve environmental problems and monitor success.
You will study advanced courses in Environmental Management and Geography. Topics include:
Advanced principles in resource management
Debates surrounding climate change
Environmental policy and governance
How to engage communities in the pursuit of sustainable development
Human welfare and natural resource management
Structuring your postgraduate programme in Environmental Management
The Master of Environmental Management is designed for graduates who have completed a relevant Bachelors degree (for example Arts, Business, Engineering, Planning, Science, Health or Medical Sciences), and who wish to build upon this with advanced studies in human and community engagement with environmental issues and/or the practice of environmental management. No prior study of environmental management is required but a Grade Point Average (GPA) of 4.0 is required from your first degree, which is equivalent to a B- grade. This is a 180 point programme that includes a 30 point research project.
The Postgraduate Diploma in Science is an alternative programme. It is a 120 point programme of taught courses, and has a GPA entry requirement of 3.0. Students may transfer to the MEnvMgt after completing the first 60 points.
The Master of Science is an option for students seeking to undertake a substantial, independent research project (a thesis). The 240 point MSc has a GPA admission requirement of 5.0 and includes a full year of taught courses (120 points) followed by a 120 point thesis. The 120 point MSc is available for students who have completed a PGDipSci, BSc(Honours) or equivalent.
Master of Environmental Management (MEnvMgt) 180-point masters
15 points:
At least 60 points from:

ENVMGT 743 Environmental Policy (not offered in 2022)

A further 75 points from:

ENVMGT 741-762
ENVSCI 713, 738
Other approved 700 level courses.

30 points:

ENVMGT 791 Research Project
Postgraduate Diploma in Science (PGDipSci) in Environmental Management
15 points:
At least 60 points from:
Up to 45 points from 700 level courses in related subjects:
Master of Science (MSc) in Environmental Management 120-point (one-year) research masters

Master of Science (MSc) in Environmental Management 240- point research masters
15 points:
At least 60 points from:
120 points:
Up to 45 points from 700 level courses in related subjects:
Courses
Explore the postgraduate courses you can take that cover Environmental Management:
Where can postgraduate study in Environmental Management take you?
Our graduates can be found in a variety industries that are directly involved in environmental management, such as environmental consultancies, non-governmental agencies and regulatory authorities. There is also a growing responsibility for large corporate organisations to be responsible for their environmental impact.
Jobs related to Environmental Management include:
Environmental consultant
Environmental education officer
Nature conservation officer
Researcher
Sustainability consultant
Scholarships and awards
Each year we award scholarships and prizes to thousands of students.
Find out about the scholarships you may be eligible for, search available scholarships or begin an application by visiting Scholarships and awards.
Help and advice
For further information and advice, please contact the Science Student Centre
Science Student Centre
Level G, Room G 20
(beside the entrance to the Large Chemistry Lecture Theatre)
Building 301
23 Symonds Street
Auckland 1010
Phone: +64 9 923 7020
Email: pgscience@auckland.ac.nz
To find a supervisor to work with you on your research project please:
See Postgraduate Research Topics
Or contact Dr Brad Coombes