Postgraduate study in Forensic Science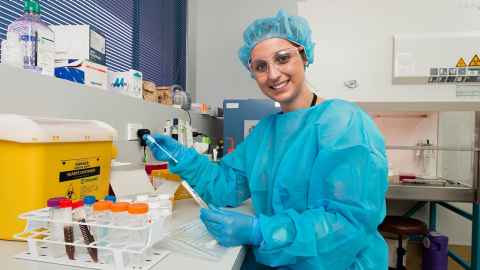 What can you study in Forensic Science?
Forensic Science covers a broad range of topics, from the statistical evaluation of glass evidence to the development of new molecules to aid in the visualisation of fingerprint residues. You will learn key skills in forensic searching and chemical and biological analysis.
Research interests open to exploration can include:
Environmental forensic science

Field science
Forensic biology
Illicit drugs

Physical evidence
Structuring your postgraduate programme in Forensic Science
For information about the Postgraduate Diploma in Forensic Science, please see PGDipForensic.
Master of Science (MSc) in Forensic Science 120-point (one-year) research masters
Master of Science (MSc) in Forensic Science 240-point research masters
105 points from:
15 points from a 700-level course in a related subject:
120 points:
Courses
Explore the postgraduate courses you can take for a Forensic Science major:
Where can postgraduate study in Forensic Science take you?
Many of our students have gone on to become forensic scientists or technicians, while others have chosen related careers or decided to pursue further study.
Jobs related to Forensic Science
Document examiners
Fingerprint examiners
Forensic geologists
Forensic scientists or technicians with ESR
Laboratory technicians
Patent officers
Pharmaceutical representatives
Quality assurance roles
Scholarships and awards
Each year we award scholarships and prizes to thousands of students.
Find out about the scholarships you may be eligible for, search available scholarships or begin an application by visiting Scholarships and awards.
Help and advice
Student Hubs
Visit your hubs for help and advice on any aspect of your studies and life at University.
The Student Hubs are your physical gateway to Waipapa Taumata Rau | the University of Auckland.
The Student Hubs services are available seven days a week at the City, Grafton, Epsom and Tai Tonga campuses and six days a week at Tai Tokerau, with friendly staff available to provide you with advice on any aspect of your studies and life at the University.