Undergraduate study in Primary Teaching
Graduates from New Zealand's top university for Education are in high demand as teachers.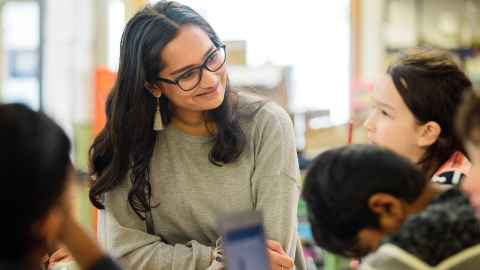 Inspire young people with a love of learning. As a primary teacher, you will teach a wide range of subject areas and share your passion for learning across the curriculum. 
The Bachelor of Education (Teaching) Primary specialisation is now available to start in 2024 at our City, Tai Tokerau and Tai Tonga campuses.
What can you study in Primary Teaching?
Complete a Bachelor of Education (Teaching) specialising in either Primary or Huarahi Māori to teach at primary and intermediate schools (typically students aged 5–13) in Aotearoa New Zealand. Upon graduation, you will be eligible to apply for provisional teacher certification.
The programme is structured around core compulsory courses that develop your understanding of the New Zealand curriculum and your knowledge and skills as an effective teacher. You will become confident in using te reo Maori authentically in the classroom and develop skills to teach diverse learners.
Where you can study Primary Teaching
TeachNZ Scholarship
Get your studies fully funded with a TeachNZ Career Changer scholarship. 
Structuring your undergraduate study in Primary Teaching
The Bachelor of Education (Teaching) – Primary specialisation consists of 360 points: 120 points each year, comprised of 8 compulsory 15-point core courses at each level. In the first year, students are able to choose one course from the General Education courses on offer.

Assessment and Practicum
You'll be assessed through individual and group assignments, examinations and practical experience in schools.
Practical experience, or practicum, is critical to understanding what it's really like to be a professional teacher. During the programme, you'll spend 24 weeks observing and teaching in classes in a range of primary school settings. This is an opportunity for you to observe a variety of teaching approaches, develop your own teaching skills and discuss relevant issues with practising professionals.
You'll have the support of an associate teacher, who is responsible for providing opportunities for you to meet the specific requirements of each practicum. They will help you reflect on your practice and be actively involved in your own learning. Associate teachers contribute to evidence-based assessment in relation to course learning outcomes and the Teaching Council of Aotearoa New Zealand's Standards.
Where can undergraduate study in Primary Teaching take you?
Our graduates are in high demand as teachers. Most go on to teach in primary or intermediate schools in New Zealand.
Primary school teachers are highly sought after in New Zealand. The career is listed as a skill shortage for every region in the Regional Skill Shortage List 2019.
Once you've been awarded your Bachelor of Education (Teaching), completed two years as a provisionally registered teacher and been granted full teacher registration, you will also be eligible to teach internationally.
Primary teaching also equips you with a range of transferable skills that can be applied in many professions.
Jobs related to Primary teaching:
Curriculum developer 
Education consultant
Educational researcher
Policy adviser
Special Needs specialist
Trainer
Further study options include
Scholarships and awards
Help and advice
The Student Hubs services are available seven days a week at the City, Grafton and Tai Tonga campuses and six days a week at Tai Tokerau, with friendly staff available to provide you with advice on any aspect of your studies and life at the University. Find out more.

Apply now