Postgraduate study in Urban Planning
Urban Planning addresses how our towns and cities can be improved to produce better social, cultural and environmental outcomes.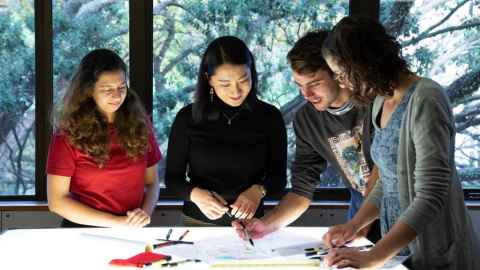 What can you study in Urban Planning?
Depending on your career interests and outcomes, postgraduate study in Urban Planning can focus on practice or research.
The Master of Urban Planning (Professional) and associated combined masters programmes are professionally accredited, and explore the following:
Policy formation and implementation
Urban sustainability
Urban design
Infrastructure
Social and cultural influences
The research-based Master of Urban Planning allows advanced exploration and critical analysis of any of the above.  
Study options:
Scholarships and awards
Discover the wide range of scholarships and awards available to support you in your postgraduate and doctoral studies.
Help and advice
Enrolment support
Our friendly staff will provide you with advice on planning your degree and enrolling in your courses. Contact our Student Hubs.
If you would like to find out more about studying Urban Planning at postgraduate level, you can contact a Postgraduate Adviser.
Dr Timothy Welch, Postgraduate Adviser for:
Master of Urban Planning
Master of Urban Planning (Professional)
PhD in Urban Planning

Email: t.welch@auckland.ac.nz
Dr Lee Beattie, Postgraduate Adviser for:
Master of Architecture (Professional) and Urban Planning (Professional)
Master of Urban Planning (Professional) and Urban Design
Email: l.beattie@auckland.ac.nz
Dr Julia Gatley, Postgraduate Adviser for:
Master of Urban Planning (Professional) and Heritage Conservation

Email: julia.gatley@auckland.ac.nz