Why choose postgraduate study?
Take the first step towards a brighter future with postgraduate study at New Zealand's leading university.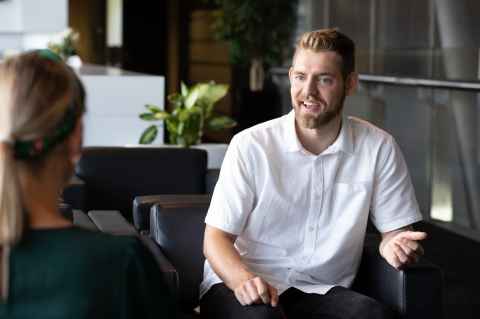 Register for updates
We're ready to answer all of your questions about postgraduate study. Share your study interests and contact details to get started.
Stop wishing. Start doing.
Postgraduate study at the University of Auckland is your chance to transform your world and open the door to a new beginning. We offer a diverse range of taught and research programmes to choose from, whether you're looking to pursue your passion, advance your career or make the switch to a new one.
Advanced study is also a great option for recent graduates who are looking to refine and deepen their knowledge in a chosen field. Your studies could see you involved in innovative research projects that have a significant impact on the way we experience the world.
The University of Auckland is New Zealand's leading university in the QS World University Rankings 2022 – and the only New Zealand university in the top 100. We're also ranked first in New Zealand for Graduate Employability. The skills, knowledge and experience you gain on your journey with us will help you stand out from the crowd and prepare you for the next step on your exciting career path.
It's in you. Bring it out.
Postgraduate study isn't just about gaining a qualification. It can also be a chance to hit the reset button, step outside of your comfort zone and open up new opportunities that enrich your entire life.
We believe that learning is a lifelong journey that can continue to broaden your horizons and help you grow into the person you want to be. Whatever field you choose to study in, continuing your education is a way to stay relevant and fulfilled in a constantly shifting and unpredictable world.
What's stopping you from stepping up?
Postgraduate study can be a big commitment. Our programmes have been designed to give you the freedom and flexibility to incorporate studying into your busy schedule. Auckland Online also offers 100% online programmes and no on-campus requirements, so you can study in a way that fully fits your life and location. We're confident we can find an option that suits your needs.
We believe in investing in our postgraduate students – that's why we offer postgraduate scholarships, awards and prizes to a total value of over $40 million each year. Scholarships are a great way to fund your journey with us, and the financial support could help to pay for your study fees or cover the cost of your accommodation.
Finding a place to live while you're studying doesn't have to be hard. We have a range of affordable accommodation options for postgraduate students that give you the opportunity to meet and make new friends with other students from New Zealand and around the world.
We have an extensive range of services available to help ensure your success, including academic and personal support options. We can also assist you with everything you need when it comes to planning the next step in your career.