Elise is a graduate of the Bachelor of Engineering, majoring in Engineering Science. She now works for Emirates Team New Zealand.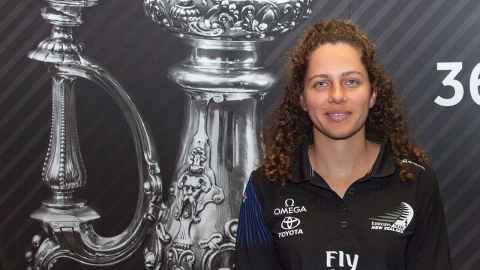 As a teen sailor who had represented her country at the Youth Olympics, Elise Beavis had a goal: to work with Emirates Team New Zealand. She was under no illusion it would happen quickly - "I thought hopefully in my thirties I'd make it there" - but she knew studying engineering science would get her a step closer.
Yet less than three years after her orientation at the University of Auckland, Elise's dream was becoming reality, as she was interning with the soon-to-be winners of the 35th America's Cup.
The internship turned into a job, which evolved into an offer to join the team full-time as a performance engineer, which led to an invite to travel to Bermuda. "It was sort of dream after dream," admits the 24-year-old, who is now focusing on the 2021 campaign.
"I have learned so much and the team atmosphere is a huge positive. When you're doing what you love, you get up in the morning and it's like, 'yay, work!'"
Scoring her dream job began with fulfilling the practical work component of her degree by spending two summers interning at PURE Design and Engineering, a company that has been involved with numerous America's Cup boats. 
While there, Elise asked around about any opportunities with Team New Zealand - "I said I'd do anything, in any area" - and her enthusiasm, skills and choice of degree, combined with a reference from a past sailing coach, got her foot in the door.
Elise believes the key to her success has been amalgamating her enjoyment of maths and science with her love of sailing to identify her perfect role. "If you can combine your outside interest with what you're interested in academically, then you're going to be pretty happy," she says. "Not everyone has a goal like I did, but if you know what you want to do, just give it 100%. There's nothing to lose by trying it." 
Meet more women in STEM
Our female academics and students share their experiences in STEM.