"Summer Start is an experience that you do not want to miss."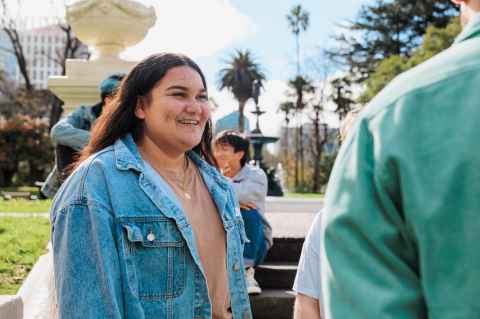 "I came to Auckland from a small town in the Bay of Islands called Moerewa. I found settling into university easy, as there are so many people here that you become friends with. It just becomes a second home of yours.
"I met many new people at Summer Start, and made friendships with the people in the programme and in the hall as well. I took one English paper to settle me into the university lifestyle, and to understand the way to study and participate in tutorials. I got to know the university area and classes before the academic year started. This made going into the year much easier as I knew more people, I knew where my classes were and I felt comfortable in the university space."
"The activities that the Summer Start leaders facilitated were
so engaging, welcoming and inclusive."

"GEOG 102: Geography of the Human Environment has been one of my favourite courses this year, as I have met new people. The lectures are interesting as we are learning about social geography. I have learnt so many new things about geography and it pushes me to keep pursuing this career.
"All of my lecturers and tutors are so easygoing and approachable. They support us in every way they can during our studies. Each course I take, it branches off into specialised areas that I want to pursue. It is also easy to make connections with other students as you have similar interests like the paper you are taking together.
"The university services are very helpful. The library academic services are useful as they support you and your work. The cultural groups here are awesome and there are always people here to talk to, if you need a hand with anything.
"Summer Start is an experience that you do not want to miss. You meet many new people, you partake in so many activities, you get to know the university better and you feel comfortable when the academic year starts."
Inverness (Ngāpuhi) took part in Summer Start in 2022.