Kick-off your first year the right way with Summer Start. This programme sets you up for success by helping you learn all the ins and outs of uni life.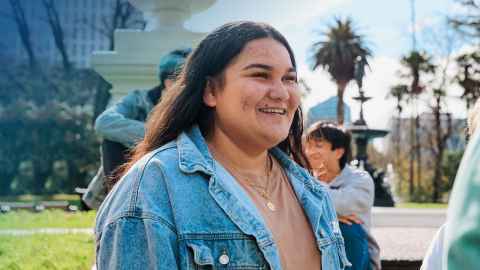 Warm up for uni this summer
Summer Start is a six-week programme for eligible* school leavers that will help you make the transition to university with confidence ahead of Semester One 2024. 
We know that sometimes it can feel challenging when you're new to university. Summer Start sets you up for success in your first year by helping you get familiar with all the ins and outs of uni life, from tutorials to exams and everything in between! It's a great opportunity to make the most of the summer and gain the skills you need to survive and thrive at university.
If you're looking for an easy way to settle into university – and the chance to have some fun while doing it – then this is the programme for you. You'll gain credit towards your studies, make heaps of new friends and learn to navigate your way around campus. We've got dozens of social events you can attend outside of class time too, with everything from sports competitions to trips around Auckland to quiz challenges.
Going into Summer Start I was so nervous I wasn't going to meet any friends and I thought it would be hard learning the content within 6 weeks. I ended up making some of the best mates by far and I felt more confident going into university. When I came here I had no clue where everything was but that changed over the 6 weeks.
In 2023, 92 percent of students said that they felt ready to begin their degree after participating in Summer Start. They found the programme to be a fun experience that gave them a sense of belonging at university and the support to tackle their first semester with confidence.
*The Summer Start programme is free for New Zealand school leaver students who meet the eligibility requirements of the New Zealand government's Fees Free tertiary education initiative.
Kick-off your first year the right way
Over the six-week programme, you'll complete one course from the Summer Start course list that will go towards your University of Auckland degree programme before Semester One classes start on 26 February 2024. There's a diverse range of courses to choose from, and we're sure we can find one that's right for you.
As a Summer Start student, you'll also have access to mentoring and support options to help you get the most out of your studies. Whatever your future goals are, we have the options available to help you achieve them.

*Students considering Engineering or Science should see the Summer Start for Engineers or Summer Start for Science Students information. Conditions may apply for students intending to apply for Engineering or clinical programmes, e.g. MBChB, BPharm, BOptom, BMedImage.

What is included in the Summer Start Programme?
Enrolment in one credit-bearing course to help give you a head-start in your university studies.
Access to Summer Start leaders who will provide academic, pastoral and social support throughout the programme.
Additional tutoring and study skill sessions to enable you to kick-start your University journey with an academic win!
Orientation to both the University and Auckland city.
Accommodation options in our catered halls of residence.
Future leadership opportunities for students in the Summer Start programme.
Study, tutorial and hangout spaces.
Fun activities such as sports and quizzes to introduce you to university life.
Frequently asked questions
Want to learn more? Check out our FAQs for more information about Summer Start.