There's so much to experience at Summer Start. Check out what taking part in the programme could look like for you.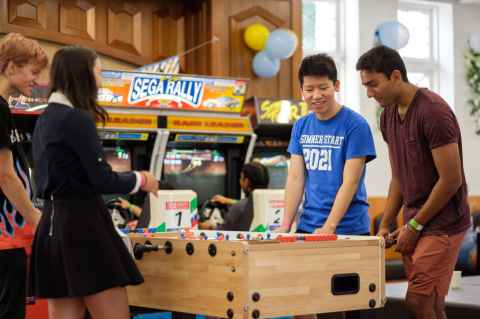 Summer Start is a six-week programme for eligible* school leavers that will help you make the transition to university with confidence. Balancing learning with social activities, connecting with friends and family, and keeping active will set you up to succeed and thrive ahead of Semester One 2023.
During the programme, you should plan to be able to attend lectures, tutorials or labs at times from Monday–Friday, 9am–5pm.
Each paper has differing hours of study. As a general rule, an undergraduate paper in Summer School will usually involve around 20 hours of study per week, including lecture and tutorial times. In comparison, a paper during Semester One or Two is expected to have approximately 10 hours of study per week. You should also plan for approximately one hour per week for university administration, such as attending meetings, keeping up with emails and learning new systems.
Summer Start will also have a range of additional study, workshop and social opportunities for you to take part in.
The timetables below show what your Summer Start experience could look like. Please note that they are an example only and lecture times may be different.
*The Summer Start programme is free for New Zealand school leaver students who meet the eligibility requirements of the New Zealand government's Fees Free tertiary education initiative.
Example one:
Monday
Lecture: 10am – 12pm
Lunch at Summer Start Hub
Tutorial: 2pm – 3pm
Basketball pick up game: 3pm – 4pm
Tuesday
Lecture: 10am – 12pm
Critical Thinking Workshop: 1pm – 2pm
Part time job: 4pm – 9pm
Wednesday
Study: 9am – 12pm
Lunch with Summer Start Leader: 1pm – 2pm
Tutorial: 2pm – 3pm
Thursday
Lecture: 10am -12pm
Study – 1pm – 4pm
Badminton tournament: 4pm – 5pm
Friday
Breakfast and games at Summer Start Hub: 9am – 10am
Lecture: 10am -12pm
Tutorial: 2pm – 3pm
Quiz event: 4pm – 6pm
Saturday
Trip to Marine Centre: 10am – 1pm
Study 3pm – 5pm
Sunday
Part time job: 9am – 4pm
Monday
Study: 9am – 12pm
Vinyl Cut Workshop: 1pm – 2.30pm
Lecture: 3pm – 5pm
Accommodation floor dinner: 6pm – 7pm
Tuesday
Gym: 9am – 10am
Lecture: 3pm – 5pm
Wednesday
Lab: 10am – 11am
Lunch at Summer Start Hub: 12pm – 1pm
Study: 2pm – 4pm
Thursday
Study: 1pm – 3pm
Lecture 3pm – 5pm
Group fitness class: 5pm – 6pm
Friday
Lab: 10am – 11am
Lecture: 3pm – 5pm
Karaoke night: 5pm – 6pm
Saturday
Mt Eden Walk: 11pm – 1pm
Study: 2pm – 4pm
Sunday
Study: 1pm – 2pm
Auckland City Dumpling Tour: 4pm – 7pm