Inside September 2020: Felicity Barnes' gift to history; Alison Jones' memoir; Emma Rogers AUSA; Kahu Virtual Campus; Mark Boyd on dirty politics; Hilary Chung obituary by Paul Clark.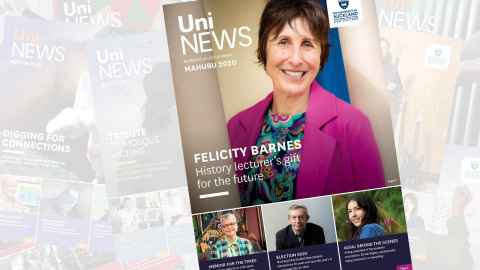 Cover story
Dr Felicity Barnes' passion is New Zealand history. She says there's so much more to be written but not enough people to do. So she's gifted $500,000 to help the History Department. 
Features and Regulars
Educator and author Alison Jones has written a memoir that's an insight into New Zealand's social history and Māori and Pākehā relationships.
Acting president of the AUSA talks about the work she and others like her have been doing in what's been a tough year for students.
Is the 2020 election campaign leaving any gaps for dirty politics?
The March lockdown sparked an idea to help new University of Auckland students virtually feel at home.
Obituary: Hilary Chung (28 May 1962 – 16 August 2020) was a force of nature, writes Professor Paul Clark.
Good to Know
(Stories on the PDF only)
Snapshots
Big jump in THE rankings
Te Wiki o te Reo Māori
Top Architect Returns Home (Anthony Hoete)
Dr Rhys Jones (Ngāti Kahungunu) wins big prize at national tertiary teaching excellence awards
Mental Health Proves a Turning Point
Mental Health Awareness Week is 21 to 27 September. Mathew Nuttall, who works in HR, tells his story
Testing Teamwork
University staff have been at the forefront of the Covid-19 testing being done in urgency
Sir Bob Elliott 
3 January 1934 to 21 August 2020
(Follow link for a full obituary online) 
Catching up on Campus
Vice-Chancellor Professor Dawn Freshwater: pōwhiri and town hall meetings. 
Liggins Researchers find Clues to Parkinson's Puzzle
Mophead Takes Top Prize
New Normal for Libraries
Pukapuka
New Books
This Pākehā Life: an Unsettled Memoir (Alison Jones)
How to Talk About Spiritual Encounters (Peter Adams)
The Telling Time (Pip McKay)
The Girl from Revolution Road (Ghazaleh Gobakhsh)
Email us: uninews@auckland.ac.nz
UniNews editor
Denise Montgomery
DDI: +64 9 923 6061 (Tuesday-Thursday)
Mobile: 027 224 0181 Monday to Friday