Inside April 2020 issue: Annie Goldson and 'Ema Wolfgramm-Foliaki team up; Dawn Freshwater writes; Rev Carolyn Kelly; Marie Ross and her clarinets; Vanessa Burholt on building connections during lockdown.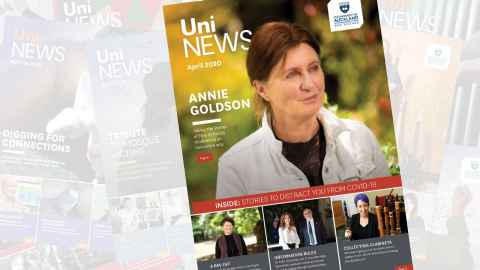 Cover story
Features
On a wing and a hopeful prayer
Reverend Dr Carolyn Kelly has been the University of Auckland chaplain for four years. She reflects on her time here as she prepares to move to the other side of the world in yet another challenging time.

Timely time to retire
With all the self-isolating and working from home going on, it's not a bad time to retire. Claire Morrison-Rooney reflects on the past 25 years.
Regular sections
Message from the VC
Dawn Freshwater looks ahead to the new strategic plan.
My Story
Māramatanga
A call for manaakitanga in a time of isolation
There's a distinction between social isolation and loneliness writes Professor of Gerontology, Vanessa Burholt. 
Good to know
Token kea story
Teaching award to Aimee Macaskill
Top cancer scientists honoured
Law academic makes legal history
Baby brain may be good 
(All stories can be read on the PDF above)
Snapshots
Remembrance service
Farewell to Stuart McCutcheon
(These stories can be read on the PDF above)
Art and Culture 
Putting herself in the picture (Ashley Tofa)
Books
(Stories can be read on the PDF above)