Inside March 2020 issue: Poet Michele Leggott; Peter O'Connor; Dean of Engineering Nic Smith; Matheson Russell's story; opinion by Jayden Houghton. Plus Good to Know, Snapshots and Art and Culture.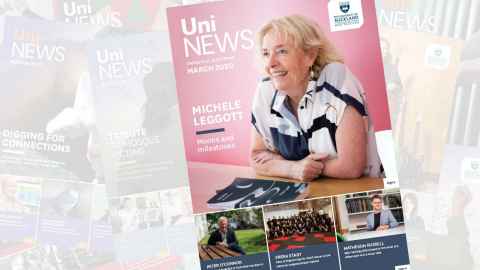 Cover story
Features
Regular sections
My story

Associate Professor Matheson Russell explains philosophy and raises philosophical questions about referenda. 
Māramatanga
Chance for Māori and the Crown to reconcile
With mātauranga Māori and taonga, it's time for Māori and the Crown to do the mahi – together, writes Jayden Houghton. The formal response to the Wai 262 claim is a good first step.
Good to know
Whales make a comeback
Vape study disproves media hype 
CBD oil may have wider benefits
(These stories can be read on the PDF above)
Obituary: Peter John Bartlett (Architecture)
Snapshots
Doctor LoveL Lesina Nakhid Schuster
Law team top of the world
Colours of the Rainbow (Big Gay Out)
Honours for top Kiwis (NZer of the Year)
(These stories can be read on the PDF above)
Art, Culture and Events
Eyes on what lies beneath (Chirag Jindal)
Books
Let There Be Light (Youngi Kim)

AUP Titles in Ockhams
Events
(These stories can be read on the PDF above)