Inside this issue of UniNews: Dr Olivier Holland; Dr Sarah-Jane Paine; Dr Ritesh Shah; student Katie Lilburne; Omicron Q and A. Plus 'In the News','Good to Know', Books.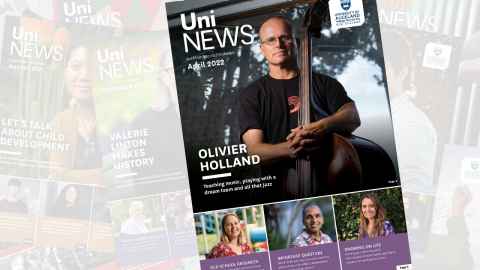 Cover story
School of Music lecturer and bass musician Dr Olivier Holland doesn't fret about much. Even in tough times, his jazz students' efforts are music to his ears.

Features
Growing Up in New Zealand will evolve through its new director Dr Sarah-Jane Paine, whose life experience is at the heart of what she's doing.

Opinion: The scope and scale of the humanitarian crisis in Ukraine is unprecedented and raises questions about the West's response, writes Dr Ritesh Shah.

Student Katie Lilburne has uncovered a trove of New Zealand's educational history revealing what Kiwi children learnt in classrooms as far back as 1877.

The University of Auckland has many medical experts who share their knowledge of Omicron. They are joined by Dr Stephen Ritchie, an infectious diseases physician with the Auckland District Health Board, to answer your Omicron questions. 
All these items on interactive PDF 
In the News (pg 2 of PDF)
Associate Professor Alex Sims
Dr Jin Russell
Professor Tracey McIntosh
Professor Andrew Shelling
PhD student Edy Setyawan

'Good to Know' stories
Pedal for a cause pg 2
Law School signs a deal with Cambridge pg 4
Royal Society fellows pg 4
Raising the Bar online edition pg 4
Underwater library pg 4
UniServices' cool mission in the Pacific pg 5
Centre for Brain Research (CBR) biobank pg 5
Books pg 11
Global War, Global Catastrophe: Neutrals, Belligerants and the Transformation of the First World War, Maartje Abbenhuis and Ismee Tames, Bloomsbury

A Decade of Disaster Experiences in Ōtautahi Christchurch, Steve Matthewman, Shinya Uekusa, Bruce Glavovic, Palgrave

Tūnui | Comet Robert Sullivan, AUP

Actions & Travels: How Poetry Works, Anna Jackson, AUP

GOT A STORY IDEA? GET IT TO US
Email us: uninews@auckland.ac.nz
Copy deadline is the 15th of the month prior to the month of publication. Ideas welcome any time. 
UniNews editor
Denise Montgomery
DDI: +64 9 923 6061 In normal times, in the office Tuesday-Thursday 
Phone diverts to Skype for Business outside of these times. 
Mobile: 027 224 0181 Monday to Friday