Inside this issue of UniNews: Dr Billie Lythberg, Dr Natalie Anderson, Dr Charmaine 'Ilaiū Talei, Dr Tim Welch.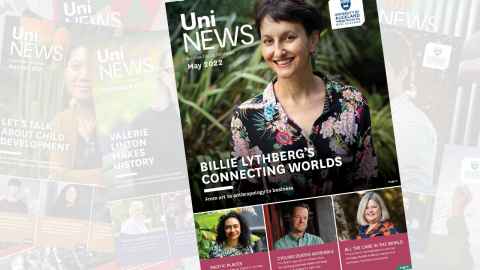 Cover story
Dr Billie Lythberg is an art historian and anthropological researcher, but she's right at home in the University of Auckland Business School. She says across all her disciplines, she works with ground-breaking thinkers.

Features
Nurse and senior nursing lecturer Dr Natalie Anderson says the pandemic has highlighted the critical need for more nurses to train – and be supported to do so.

Dr Charmaine 'Ilaiū Talei is an architecture alumna who returned to the University of Auckland to teach in 2022, excited by Pacific inputs in the School of Architecture and Planning.

Opinion: Dr Tim Welch wants something done about New Zealand suffering deadly 'vehicle violence' brought about by poor infrastructure and fast-moving machines.

Emmanuel Cea has been helped out with his nursing studies through the Robyn Dixon Nursing Award.

All these items on interactive PDF 
In the News (pg 2 of PDF)
Dr Geoffrey Handsfield
Dr Julie Spray
Dr Patrick Thomsen
Dr Vickie Shim
Associate Professor Stephen Hoadley

'Good to Know' stories
Dr Guillermo Merelo: Pink Shirt Day pg 4
Staff giving increases post lockdowns pg 4
University rankings jump pg 4 
Law team wins 2022 Transatlantic Negotiation Competition pg 5
Patricia Pillay kurī research pg 5
Arts and Culture
Elam student Emma Ormsby and mural pg 10
Writing alumna Shelley Burne-Field shortlisted for Commonwealth Prize. Also pg 10 on PDF

PhD student Zahra Aghababaie - ABI artwork
Gibbons lecture series pg 11

Books pg 11
Anzac Nations: The Legacy of Gallipoli in New Zealand and Australia, 1965–2015
By Rowan Light, Otago University Press, $50
Isobar Precinct, Angelique Kasmara, The Cuba Press, $37
Raiment: A Memoir, Jan Kemp, Massey University Press, $35
Listen to Jan's interview on RNZ Kim Hill 

Nature Boy: The Photography of Olaf Petersen, Edited by Catherine Hammond and Shaun Higgins, Auckland University Press, $60