Inside this issue of UniNews: Graduation stories and photos; Dame Jane Harding; Shane Cronin in Tonga; Delshad Kalantary.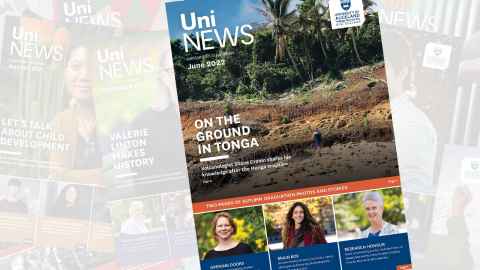 Cover story
Professor Shane Cronin's data from Tonga provides new paradigms and tools for responding to volcanic eruptions.

Features
The neonatal glucose studies team of researchers led by Distinguished Professor Dame Jane Harding has been honoured for their outstanding work helping prevent brain damage in newborns.

Doctoral student Delshad Kalantary has adopted a Kiwi DIY attitude and built a light-therapy box she hopes one day could help with Alzheimer's treatment.
Opinion: Dr Nicole Perry says learning another language opened her eyes and also took her from the backwaters of British Colombia to a German studies position at the University of Auckland.
The student creators of winning sculpture The Nest salvaged a previous winning sculpture, also by University of Auckland students, to give it new life.
All these items on interactive PDF 
In the News (pg 2 of PDF)
Dr Peter Wills 
Professor Rochelle Constantine 
Associate Professor Neal Curtis 
Professor Jane Norton
Professor Maartje Abbenhuis 

'Good to Know' stories
Sugar study pg 5
MethaneSat pg 5
Arts and Culture
Lucy Mackintosh's Shifting Grounds: Deep Histories of Tāmaki Makaurau Auckland book a winner pg 11
Artist Sione Faletau exhibition at Fisher Art Gallery pg 11
Books pg 11

Pocket Money and Other Short Stories
Vivienne Lingard, Artistry Publishing, $38

Gridiron Capital: How American Football Became a Samoan Game
Lisa Uperesa, Duke University Press, $42
Nudged into Lockdown? Behavioral Economics, Uncertainty and Covid-19
Ananish Chaudhuri, Edward Elgar Publishing
If That's What It Takes
Les Allen, Illustra Press, $38