Inside this issue of UniNews: Law lecturer Dylan Asafo, student Mackay Price, Field Club reunion, Auckland Writers Festival, Emeritus Professor Jane Kelsey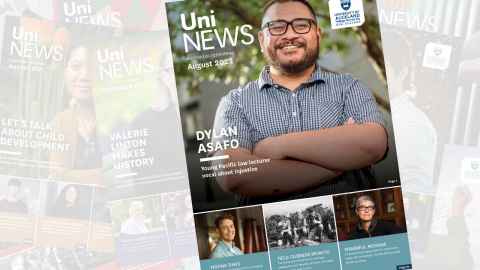 Cover story
Law lecturer Dylan Asafo doesn't shy from sharing his opinion on health inequity, as well as institutional racism in the justice system.
Features
Wastewater can reveal a lot about a community – from its health to its drug use. PhD student Mackay Price's research is having an impact.

Past members of the Auckland University Field Club will celebrate 100 years since the club's formation.

The Auckland Writers Festival will take place 23-28 August, with a number of University creatives taking part.

Māramatanga
Opinion: Emeritus Professor Jane Kelsey says academics face worsening challenges to be public intellectuals and feel vulnerable when speaking out.

All these items on interactive PDF 
In the News (pg 2 of PDF)
Dr Ben Albert
Professor Warwick Bagg
Dr Makarena Dudley 
Bernard Sama
Dr Joel Rindelaub 
Professor Gavin Brown

'Good to Know' stories
Baby talk pg 6
Top tool to stamp out bullying pg 6
Staff contributions celebrated pg 7
Which way do Māori roll? pg 7
HRC funding pg 7
Mervyn McLean obituary pg 9
Old Winter Lectures digitised pg 9
Arts and Culture
Connected World exhibition pg 11
Sabreen Islam student, poetry book  pg 11
Books pg 11

The Making of the Modern Company: Contemporary Studies in Corporate Law
Susan Watson, Bloomsbury, ebook, $122

Language Teachers Studying Abroad
Edited by Gary Barkhuizen, Channel ViewPublications, around $70

The Last Fallen Moon
Graci Kim, Disney Press, available online and by order through bookstores now, officially onNZ shelves next January, $27.99

The Monkey and the Moonbeam
Jonathan Smith, Little Love, $30