'Whiskey Tango Foxtrot' moment for 3MT winner
Thirteen winning postgraduate students captivated a sold-out audience at the Three Minute Thesis (3MT) final on 6 August, with Business School PhD candidate Sam Mackay taking out the ultimate title: Doctoral Winner.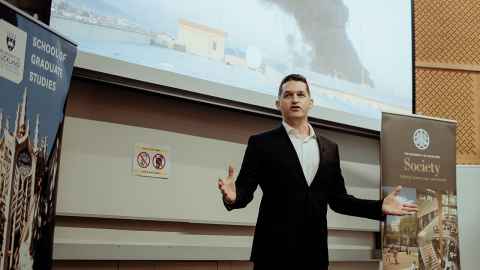 "Whiskey Tango Foxtrot! WTF in the NATO alphabet, the name of a Hollywood movie starring Tina Fey, and something akin to what I uttered when I was caught in a bomb blast in Kabul, Afghanistan, just two years ago…"
These were Sam Mackay's captivating first lines as he entranced the 250-strong audience at the 3MT competition on Friday evening 6 August.
Sam was one of the 13 top postgraduate students who took on the challenge of sharing their research to a general audience in three minutes, with nothing but a single static slide. His research about the experiences and well-being of expats in Afghanistan compounds won him the top doctoral prize, and the chance to represent the University of Auckland at the 3MT Asia-Pacific Final in October 2021.
"I decided to enter 3MT as a way to help me sharpen up my elevator pitch about my research," Sam says. "I wasn't expecting to make it through to the finals – let alone win!
"The best part about 3MT was seeing the other PhD and masters students in action. They spoke so passionately about their research and it was amazing to learn so much in so little time. It was great to hear about the research that they are embarking upon and the impact it will have in the world."
Engineering PhD candidate Krish Chaudhuri's presentation on computer modelling for heart bypass surgery secured him the doctoral runner-up title.

Science masters students Rachel Lawson and Sebastian Dunn also impressed the judges, with Rachel's research on changes to human mobility during the Covid-19 lockdowns winning her the top masters prize, and Sebastian's exploration of virtual reality DNA scoring him the runner-up spot.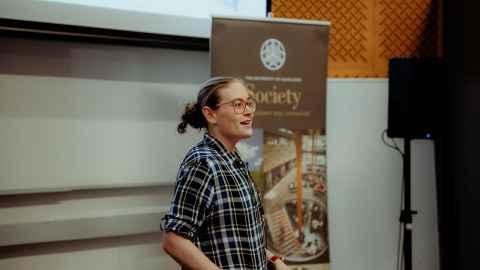 Rachel is now preparing to represent the University of Auckland at the national Inter-University Masters Final. She says the competition was a challenge that she'd recommend to all postgraduate students.
"Although presenting in front of hundreds of people was pretty nerve-wracking, the actual atmosphere of the event, with comedy, music, food/drinks, new friendships, and the support from staff, my supervisors, friends and event organisers, made it a great place to learn and test my public speaking and science communication skill set.
"I now feel much more confident explaining my research to non-specialist audiences, to future employers and during future presentations later in my masters."
Other top postgraduate students delighted the audience with presentations on financing the transition to net zero, surgical outcomes, diver capabilities, perceptions of randomness, burn-out in the workplace, unsettled times in Māori and Pākehā fiction, reimagining place and identity, and equity in cycling.
But it was Faculty of Medical and Health Sciences candidate, Joseph Chen, who captured the heart of the audience, taking out the People's Choice Award for his research on our lacking mental health system.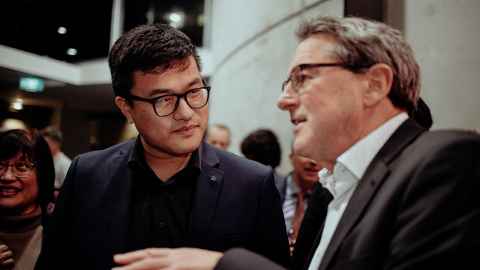 While MC Dr Caroline Daley (Dean of Graduate Studies) entertained the crowd throughout the evening, judges Professor Jim Metson (Deputy Vice-Chancellor Research), Finlay Macdonald (New Zealand Senior Editor at The Conversation) and Morgane Merien (last year's 3MT Doctoral Winner) were tasked with scoring the presentations – which was no easy feat, with such high-quality speakers to choose from.
"It was such a thrill to be on the flip side of the 3MT experience!" says Morgane. "What I really loved the most was being able to truly enjoy every single presentation. Last year I was so nervous, I wasn't even able to pay attention to the people who came before me. This time was a lot more relaxed and I learned a lot more!
"Every year the calibre of the presentations is so high. Hearing about the amazing and diverse research taking place at the University is such a joy and really inspiring."
You can find a full list of the evening's participants at 2021 winners.
Three Minute Thesis was originally developed by the University of Queensland with the aim of developing doctoral candidates' ability to communicate their research to a general audience. The competition now takes place in over 900 universities across the world. Participants are challenged to condense their entire research project into a three-minute presentation intended for a general audience and supported by only a single static slide.
The University of Auckland Three Minute Thesis competition is run by the School of Graduate Studies.