Mussels, mitochondria and the mind – 3MT winners announced
Fourteen postgraduate students captivated a sold-out audience at the Three Minute Thesis (3MT) Final on 5 August, with PhD in Marine Science student Trevyn Toone taking out the top doctoral prize.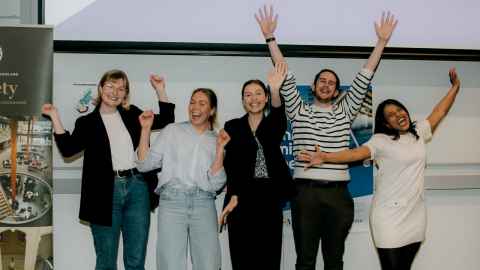 "Which is stronger? The sea or the Earth? The sea of course, it has so many mussels!" was the opening joke that had the 200-strong audience laughing as Trevyn Toone began his winning Three Minute Thesis presentation on 5 August.
Trevyn was one of 14 postgraduate research students who took on the challenge of sharing their research to a general audience in three minutes, with nothing but a single static slide. His research about mussel decline in the Malborough Sounds won him the top doctoral prize, and the chance to represent the University of Auckland at the 3MT Asia-Pacific Final and U21 3MT Final.
Two-time runner-up at the SGS Research Showcase, Trevyn is no stranger to research communication. Now in his third year of a PhD in Marine Science, he decided it was the right time to take on the 3MT challenge.
"I definitely didn't think I'd win, but I knew it would be a good chance to approach my research from a different angle and really think about the core basis of my thesis," Trevyn says. "The best part was listening to everyone else's talks. It's amazing how broad the scope of research is among postgraduate students at the University and it was exciting to see how passionate everyone is about their own research."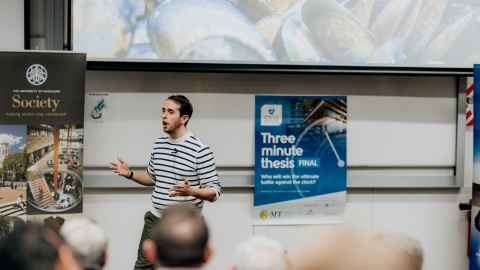 Based in Nelson, Trevyn's research is driven by his passion for environmental restoration.
"Humans have intentionally and unintentionally caused enormous damage to ecosystems across the globe. Restoration programmes like our work with mussels in the Marlborough Sounds allow us to atone for some of that damage while also learning more about the scientific realities of the natural world and recovering vital ecosystems."
The doctoral runner-up prize was awarded to Faculty of Education and Social Work PhD candidate Smridhi Marwah, who shared an impactful presentation on understanding how age, ethnicity, sexuality and Covid-19 influence women's perceptions of their bodies.
Meanwhile, Science masters students Rebekah Bradley and Isla Christensen impressed the judges, with Rebekah's research on the assessment of the MinION as a platform for forensic sequencing of mitochondrial DNA winning her the top masters prize, and Isla's presentation on kauri dieback management in New Zealand print media securing her the runner-up spot.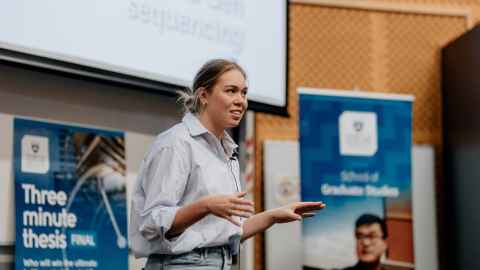 Rebekah is now preparing to compete at the national Inter-University Masters Final, which will be hosted by the University of Auckland this year.
"I'm excited for the national final to see what other researchers in New Zealand are looking into. It's a fantastic way to get a snapshot of my fellow researchers' lives from around the country."
The audience was treated to a range of other presentations on the genetic code, the benefits of kawakawa, decoding human movement, tsunami loading on New Zealand buildings, teachers' professional identity, millimetre wave coverage, junk DNA, wine and climate change and empathic remote collaboration.
But it was PhD in Psychology candidate Katie Smith who captivated the audience, winning the People's Choice Award for her research on capturing the mind in action.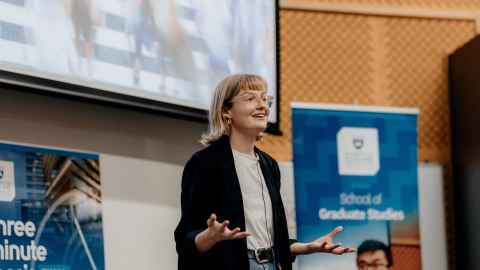 "It was a lovely surprise to win People's Choice," says Katie. "I was so grateful for the opportunity to really connect with people and shine a light on the most exciting parts of my thesis. It was such a pleasure to have a platform just to communicate my passion for what I do."
While MC Professor Caroline Daley (Dean of Graduate Studies) entertained the crowd, judges Professor Bridget Kool (Pro Vice-Chancellor Education), Gilbert Wong (Research Communications Manager) and Krish Chaudhuri (last year's 3MT Doctoral Runner-up) were given the challenging task of scoring the presentations.
"The best part of coming back as a judge was having the privilege of being involved in the selection of the University's representatives for this year's global competition - hopefully selecting the future winner in the U21 3MT 2022 Competition from University of Auckland!" Krish says. "It was also great to meet the other judges and see the outstanding calibre of the presentations, which made the judging very difficult. 3MT is a fantastic opportunity for postgraduate students to develop their communication skills and confidence."
You can find a full list of participants and watch presentation videos at 2022 winners.

Photo credit: Anna Vasilyeva-Bycroft