Although all may look unchanged above the surface, our seabeds are suffering as heavy ship anchors carve a destructive path through delicate coastal ecosystems.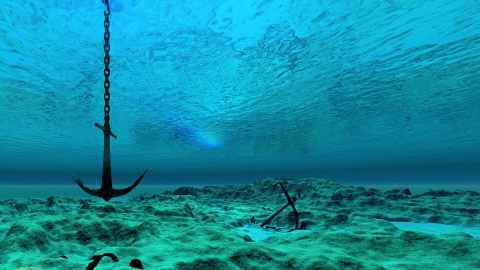 A world-first study into the damaging environmental impact of ships' anchors may have never happened if it wasn't for the keen eyes of researchers including University of Auckland Marine Science lecturer, Dr Sally Watson.
In her dual role as a marine geophysicist with NIWA, Sally led a team that was poring over high resolution images from a hydrographic survey of the Queen Charlotte Sound, when they noticed distinctive gouge marks on the seabed near the port of Picton that were ultimately attributed to ship anchors. "We didn't specifically choose Picton, but it just provided this real amazing example of this human impact that we haven't really described in the scientific literature very well," says Sally.
A gigantic footprint
Shallow marine areas are often home to thriving communities of plants and animals, including sea grass that provides nesting sites for large fish, but studies of benthic or seabed trawling have revealed degraded ecosystems where changing sediment chemistry and turbidity smothers filter feeders.
Images taken of the Picton seabed four years apart suggests that gouge marks can last for years. "If you could imagine someone dragging an anchor and chain along the land repetitively and regularly over short intervals, what you would end up with is a pretty bare landscape," says Sally. "And we think that the exact same thing is happening on the seabed."
The researchers estimated that a single high-tonnage vessel could excavate the seafloor by up to 80cm and displace enough sediment to fill an Olympic sized swimming pool. Scaled up globally, the shipping 'footprint' equates to at least 20,000 square kilometres of impacted seabed – roughly the size of Israel or Wales.
What's more, the damage has been magnified by the well-publicised Covid related supply chain issues which forced ships to anchor for longer periods outside major ports, and the study did not account for other modes of shipping like the cruise industry. "Our global estimates, which are quite big, are still very much a likely underestimate of the global footprint," says Sally.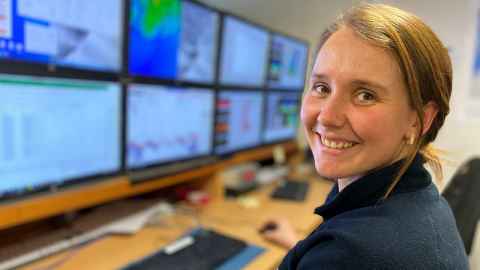 Countdown to net-zero carbon
Given that most of the world's major ports are outside major cities, she says the research has far-reaching implications for already stressed ecosystems, "so we're expecting that anchoring is yet another impact on top of things like urban runoff or heavy metal contamination or even reclamation".
In addition to the physical destruction, another concern for Sally is the release of carbon stored in shallow marine zones which can chemically alter the environment when sediment is overturned. "We might be doing long term damage, and we might be doing full ecosystem damage that potentially changes the entire environment in the coastal setting by disrupting buried carbon."
Interestingly, the 2021 UN Climate Change Conference (COP26) endorsed the 'Clydebank Declaration' to support the establishment of green shipping corridors between ports. However the impact of anchoring wasn't considered and Sally believes that has to change if the global maritime industry is to meet its net-zero goal.
If we degrade all of our shallow marine and coastal environments, we will suffer. This is our food basket.
Bright ideas
The 'silver lining' is that the additional environmental stress created by the pandemic has provided a glimpse into the future impact, especially given that seaborne trade is projected to quadruple by 2050. "Can we control its growth and make sure that the damage zone doesn't creep wider and wider with projected increases in shipping and therefore congestion?" Sally asks.
The first to admit that she's "not an expert in maritime logistics", Sally is nevertheless brimming with ideas about how to mitigate damage – from mooring blocks that confine ships to a specific area, to the revolutionary use of spikes rather than anchors to minimise the footprint.
To her, the "most compelling" option is simply to minimise the amount of anchoring with improved co-ordination of arrival times – and therefore less waiting time – something that could be achieved if ships slowed their approach to ports in the same way that aircraft do. "Obviously they get there later, but they get there on time because that's when they're needed to get there. And by reducing speed they use less fuel."
Determining who is responsible for what's being described as the 'hidden cost' of shipping is another imponderable. Is it the shipping line, the port company or perhaps a local authority? And who'll foot the bill for a solution like moorings to replace anchoring?
"I'm not surprised that people aren't interested in talking about it because it will almost certainly have an additional cost to whatever they're doing in terms of trade," says Sally. "But at the moment, the cost is being worn by ecosystems essentially."
Changing tack
With cruise ships due back in New Zealand waters later in 2022 visiting a host of picturesque and sensitive ecosystems, Sally believes that there's an opportunity to rethink how ships move around our coastline "and whether or not we can incorporate some of the findings from this paper to minimise all types of ship impacts to our seafloor".
The 2021 hydrographic (bathymetry) survey was funded primarily by the University of Auckland with support from NIWA, and Sally hopes to conduct further research on the cumulative impact of a range of human activities on the marine ecosystem – from anchoring to the amount of microplastics in sediment.
"If we degrade all of our shallow marine and coastal environments, we will suffer. This is our food basket. It's also a major economic driver," she says. "If we don't think about it until it's too late, we'll be losing a whole bunch of other things associated with it as well."
Having lived close to the sea most of her life and become a keen surfer with a "respect for the ocean", the research is close to Sally's heart in terms of understanding how the Earth works and trying to unravel stories with clues from different data sets.
"The most exciting thing about working in this space is that a lot of what we do is really frontier work and so a lot of the places that we've mapped and the things that we've seen, often we're some of the first humans in the world to see it in that particular level of detail."