Prepare for take-off: the Rongowai mission
Imagine if domestic flights crossing the skies each day in New Zealand were not only taking people places, but reeling in vast reams of environmental science data in fascinating detail at the same time.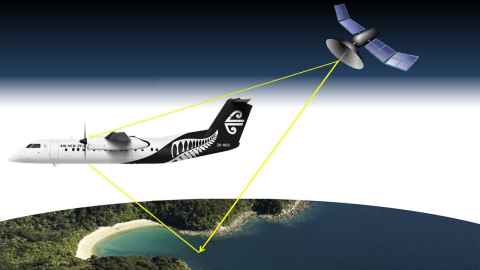 The Rongowai mission is an international collaboration to make this endeavor a reality and achieve something never done before; to capture this data by fitting a scientific payload instrument within the hull of one of Air New Zealand's Q300 passenger aircraft.
The mission is part of NASA's Cyclone Global Navigation Satellite System (CYGNSS) mission, and along with Air New Zealand, includes the University of Auckland, the University of Michigan responsible for building the device, Ministry of Business, Innovation, and Employment (MBIE), New Zealand Space Agency, Ohio State University and University of Canterbury. The project is supported by MBIE's Catalyst Fund, the University of Auckland Vice-Chancellor's Strategic Development Fund and NASA.
The Faculty of Science's Centre for e-Research (CeR) is hosting the data centre for the mission and Dr Mike Laverick is one of the Centre's Senior Solutions Specialists, reporting to Auckland Adjunct Professor and Engineering alumna, Dr Delwyn Moller, who is leading the project. Originally from the UK, Mike has a background in astronomy and astrophysics. "I've spent a good portion of my academic life staring away from the Earth instead of towards it," he says. After completing his PhD in Belgium he moved to New Zealand in 2020 just before the borders closed and hit the ground running with the Rongowai project.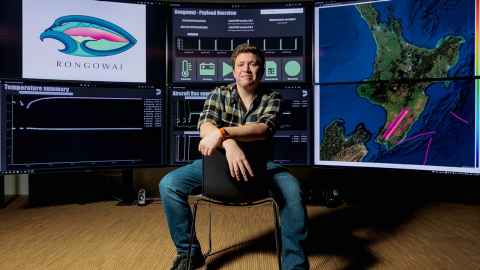 Next-gen tech to combat climate change
Rongowai is the first of the next generation Global Navigation Satellite System Reflectometry (GNSS-R) receiver and payload box that will be installed inside the aircraft. It receives two types of signals; direct signals from GNSS satellites up in space (from up to 20 satellites at the same time); and reflected signals from these satellites, rebounding off the Earth's surface. Using these reflections, many environmental measurements can be made, says Mike, including soil moisture which can help to track climate change indicators such as drought, coastline erosion and flooding.
"We can monitor inundation and flooding events, like the Christchurch flooding last year, monitor precursor conditions that indicate susceptibility to flooding, and do the same in the other extreme for drought events, all by monitoring soil moisture conditions," he explains. "Then all of the data we produce is going to be made publicly available so it can have as large and as meaningful an impact towards New Zealand and climate change as possible."
Air New Zealand is acutely aware of the role it needs to play in addressing climate change and Chief Operational Integrity and Safety Officer, Captain David Morgan, says it is the biggest crisis facing the airline. "We don't take our position lightly and we're committed to reaching our goal of net-zero carbon emissions by 2050 – Flight NZ0," he says. "We've made a number of key moves on our journey towards a greener future. But we also know it is not something that can be solved alone. It will take a collective effort from both public and private sectors to come together to make real change.
"With flight paths covering most of New Zealand, our daily operations can become a significant tool for the global science community," adds Morgan. "Our Q300 aircraft fly at around 16,000 feet – significantly closer to the earth and sea than NASA's satellites. By flying the receivers, we'll enhance NASA's satellite data with a daily feed of high resolution, high impact information, with significant potential for the science community."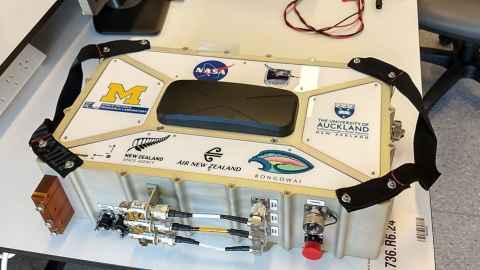 Breaking new ground
As Rongowai is the first of the next generation of GNSS-R sensors, it is expanding the frontier of what the satellite receiver is technologically capable of, in image resolution, data volumes and the kinds of data it can capture.
"The successes and lessons learnt in creating and operating Rongowai are going to directly feed into and shape future GNSS-R missions," says Mike. "So on the technical front, it's achieving a lot just by existing."
Air New Zealand is set to be the first passenger airline in the world to join a NASA earth science mission, which if successful will hopefully pave the way for more scientific remote sensing instruments to be carried by commercial aircraft in the future.
"The ultimate goal is of course the climate front, which is to make sure that the data generated from Rongowai actually has a real world impact across research and industry, to help Aotearoa make informed decisions with respect to the environment and driving meaningful change in policy and in practice."
One application Mike hopes that soil moisture data will have, is helping to monitor regenerative agricultural practices taking place in New Zealand over the coming years and to validate how these practices are making a difference to the environment.
Bringing in a mountain of data
The volume of data Rongowai can capture is on a vast scale. It is capable of simultaneously capturing 20 reflections as often as every second for the duration of the flight, with the aircraft making four to five flights each day for the next five to ten years. Air New Zealand's Q300 fleet covers flight routes to 18 locations all over New Zealand and if the launch is successful it may look to install the technology more widely across this fleet.
The CeR is responsible for transferring all the scientific and diagnostic data from Rongowai's receivers on the aircraft, to their servers at the Science Payload Operations Centre (SPOC), which was purpose built at University of Auckland, funded by MBIE. Here they can process the data into valuable science data products, host it and make the data publicly available.
Visualising the data is another important element of the Centre for e-Research's role in the project. Mike and the Centre's team are working alongside independent science agency Toha, and data management and analytics platform, Takiwā, to determine how best to visually present the data and to ensure it has extensive public reach.
The name Rongowai was gifted to the mission by University of Auckland's Kaiarataki, Pro Vice-Chancellor Māori, Michael Steedman in consultation with Air New Zealand's Henare Johnson. To learn more about its meaning and the Rongowai logo, visit: spoc.auckland.ac.nz/rongowai-the-name
Overcoming adversity
No project is without its challenges, and Rongowai was no exception. Just as the pandemic slowed the whole world down, the domino effect from COVID-19 hampered the mission's progress, creating difficulties with shipping deliveries and laboratory access. But given the aviation industry was one of the hardest hit by the pandemic and almost brought to a halt globally, a September launch date within three years of the project commencing seems nothing short of remarkable.
Another big challenge was codesigning and testing Rongowai to be certified for commercial aircraft use, says Mike. "Passenger safety is paramount. You can't just install any old thing on an airplane. It needs to be fully certified and fully tested before it can be used on board." This process was a collaboration between the University of Michigan, Air New Zealand's engineers and the Civil Aviation Authority (CAA).
Preparing for launch
In July the project passed a major milestone; the handover and acceptance of custody of Rongowai from the University of Michigan that built it to Air New Zealand, taking place after bench testing at the University of Auckland. Mike says this was the checkpoint that really hit home with the team, that this groundbreaking scientific equipment would soon take flight.
At the time of writing, Rongowai was scheduled to launch in September 2022. Once installed within the aircraft, it stays there and if all has gone to plan, it'll be sending a wealth of valuable climate data in substantial volumes to SPOC, for many years to come. "It's like launching a satellite into space," says Mike. "You're never going to touch it again. The only difference is you'll come within a meter of it if you're on the right flight!"