Mussel man wins Asia-Pacific 3MT Final
University of Auckland doctoral candidate Trevyn Toone took out the top prize at the Asia-Pacific Three Minute Thesis Final with his research on mussel restoration.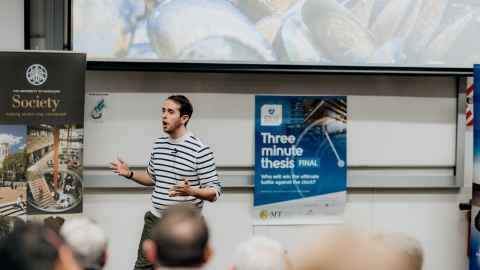 Nelson-based doctoral candidate Trevyn Toone took out the number one spot at the online Asia-Pacific Three Minute Thesis (3MT) Final, which brought together nine finalists to share their research in just three minutes. The finalists were narrowed down from a pool of 57 competitors from across Australia, Japan, Hong Kong, Malaysia, Singapore and New Zealand, each selected to compete after winning their university 3MT competitions.
Trevyn's winning presentation was about restoring New Zealand's wild intertidal mussel reefs, which are threatened by overharvesting and land use changes – a topic he's very passionate about.
"I first became interested in the world of mussel restoration because of the incredible benefits mussels provide for humans and our oceans," Trevyn says. "Most people know and love mussels because they pair so well with a white wine sauce, but they're actually foundational to our coastal environments. Mussels filter our water, remove harmful forms of chemicals, and keep our seabed stable, so making sure these reefs are thriving keeps us and our oceans happy and healthy."
The Asia-Pacific win adds to a long list of recent achievements for Trevyn, who also won the academic poster competition at the University's SGS Research Showcase just last week. He says getting involved with research communication competitions like Three Minute Thesis has allowed him to stay connected with University community while he completes his research in Nelson.
"I'm passionate about these research communication competitions for two reasons. First, I'm based in Nelson so these competitions have been a great way to stay connected to the broader postgraduate community and see what other kinds of research are happening on the main campus. Second, they challenge me to develop clear and compelling summarisations of some pretty complex research for an average audience member which actually helps me understand my own work better.
"I would encourage anyone who sees these competitions or events advertised in your inbox and thinks 'maybe next year' or 'this isn't for me' to just give it a shot!"