University's Field Club reunion a great success
Auckland University Field Club members reconnected for three days to celebrate the 100th anniversary of the club's formation.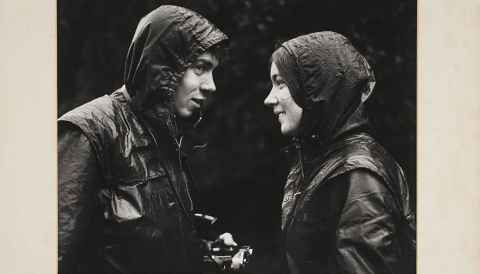 Over a highly memorable weekend, 1-3 October 2022, more than 150 alumni reunited to share their love of the environment and special connections made during their time in the Auckland University Field Club (AUFC).

AUFC was formed in 1922 and although it ended in 1992, members representing several decades organised a centenary celebration. It involved dinners for each decade's cohort, presentations and, despite some weather issues, field trips to Motuihe, the Leigh Marine Centre and a favourite haunt at Kawerua, Northland.

One of the organisers of the event, AUFC life-member Dr Bruce Hayward (PhD, geology, 1976, member from 1969-75), says Field Club meant a great deal to many people.

"It kept us sane and carried us through our degrees. My first degree was about the rocks I'd been introduced to on my first Field Club trip – to the Table Mountain area in the Coromandel Ranges."

He says results from the annual natural science research trips were published in the Field Club's scientific journal Tane.

"AUFC had a scientific hut at Kawerua on the coast out of Waipoua Forest and one aspect of this 2022 reunion was for 40 ex Field Clubbers, as guests of Te Roroa iwi, to revisit this location."

Bruce says back in the day, the club was excellent at match-making too.
"I met my wife Glenys through the club, as have more than 100 couples that we're aware of. Five of the eight members on the centenary reunion-organising committee have Field Club partners."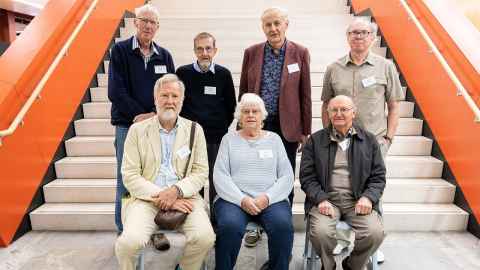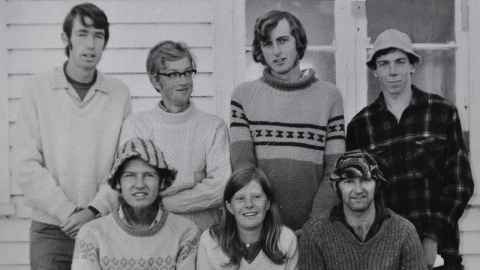 Field Club kept us sane and carried us through our degrees.
The oldest to attend the reunion was 97-year-old Margaret Brothers (MSc, 1948, AUFC 1943-48), the widow of Professor Nick Brothers (Geology Department). She also met him through AUFC.

David English, 81 (MSc Hons, botany, 1966), spent several years on the Field Club committee and co-editing Tane. He joined the club after a botany trip to National Park.
"It wasn't a Field Club trip, but friendships developed and my interest in the great outdoors was unleashed," says David. "My fascination with native plants began and I was encouraged to join Field Club."

David mooted the idea of the 100th reunion after he received an email from the University for its fundraising campaign to fight kauri dieback. He contacted Field Club associates to encourage them to donate and among those was Bruce. The pair ended up spearheading this reunion, which included presentations by a postgraduate researcher on kauri dieback.

Incredibly, all members of the organising committee for the 50th-anniversary reunion in 1972 were present at the centenary.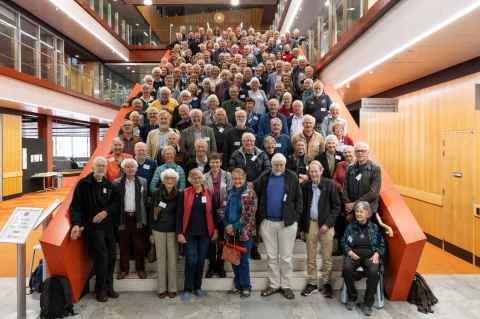 Every term break there was a trip somewhere exciting. I vividly remember all the trips.
Another to assist was Carol Gunn (MSc Hons, cell biology, 1984). She joined Field Club in the 1980s.

"Every term break there was a trip somewhere exciting. I vividly remember all the trips, including to Kauaeranga Valley, Whangamumu, Lake Tarawera, Great and Little Barrier islands, and many trips to the old hotel at Kawerua. We hired vans, packed old A-frame canvas army tents, and loaded up piles of food to satisfy hungry students for a week or a weekend.

"Those shared experiences still bind many of us deeply."

Bruce summed up the weekend: "At the heart of the reunion was reconnecting with Field Club friends, many of whom hadn't seen each other for years. People's shared interests in the outdoors and the environment have transcended the decades."

Fight Kauri dieback: auckland.ac.nz/kauri-dieback-fund
This story is from the University of Auckland's alumni and friends publication Ingenio, Spring 2022 issue.