Organic electronics for neurodegenerative diseases
Researchers have invented organic electronic materials that will transform the sensing and management of Parkinson's and other neurodegenerative diseases.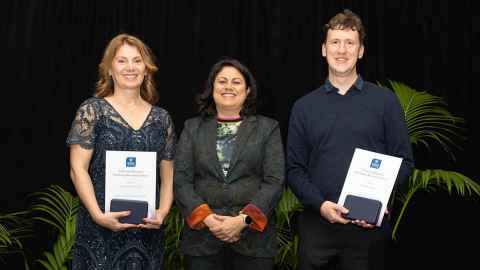 Professors Jadranka Travas-Sejdic and David Barker of the Faculty of Science have developed a new class of organic electronic materials suited for the novel field of bio-electronics, where biology converges with electronics. 
The new materials mimic nature. They are soft, flexible, stretchable, self-healing and adhesive. The so-called skin electronics can measure the health of a person, their muscle and heart activity and be used to deliver the subtle electronic impulses currently used to treat neurodegenerative conditions like Parkinson's. The organic electronics offer endless possibilities for new ways to monitor health and treat illness.
Jadranka and David received a Research Excellence Medal at the 2022 Research Excellence Awards for Waipapa Taumata Rau, University of Auckland.
Media contact
Gilbert Wong | Research communications manager
E: gilbert.wong@auckland.ac.nz
Mātātaki | The Challenge is a continuing series from the University of Auckland about how our researchers tackle some of the world's biggest challenges. Challenge content is available for republication.